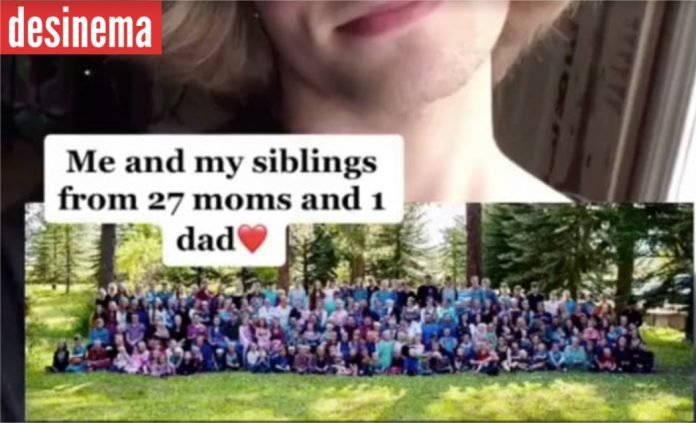 Can you imagine a family of 150 children and 27 wives of one man alone? Well, we have a word of one such family. Winston Blackmore's son Merlin revealed using his tik tok account about his large family. This family is the largest polygamous family in teh entire world. They are based in Bountiful, British Columbia. 
His sons Merlin and Warren who are now separated from the man kept this secret for years and now when they are ready for the world, they have surprised the world with this offbeat family.
The tik tok account in which Merlin posted is @merlins.life. He now lives in Canada, US and says "'I've wanted to talk about this for years. Now I'm in a position I can, the world is going to know."
The children had their own school where they used to go and instead of living with their mothers, the teenagers all lived in a "motel house" together. Merlin has two brothers and they were born triplets. There was a system developed where the children were trained to call their biological mother "mum" and the other wives of their father "mother" which had to be followed by their first name. Imagine, if there was no name calling system 😛
Merlin's brother Warren on his video page @warrens.life said: "Typically there would be two mums and their kids per house, one on the top floor and one on the bottom."
He also said, "There were two groups of three different sisters and there were four groups of four different sisters from another family." The birthdays were celebrated normally while the reunions were a really big deal with a  hall that was required to be booked for accommodating all the members of Winston Blackmore's family.
Merlin revealed that he was born with Warren and another brother as a triplet alongside two other family members on the very same day who have different mothers. Merlin Murray had 12 siblings and all were named with a starting letter "M".
Did you find this article interesting? Comment below and share it with your friends and family to shock or surprise them