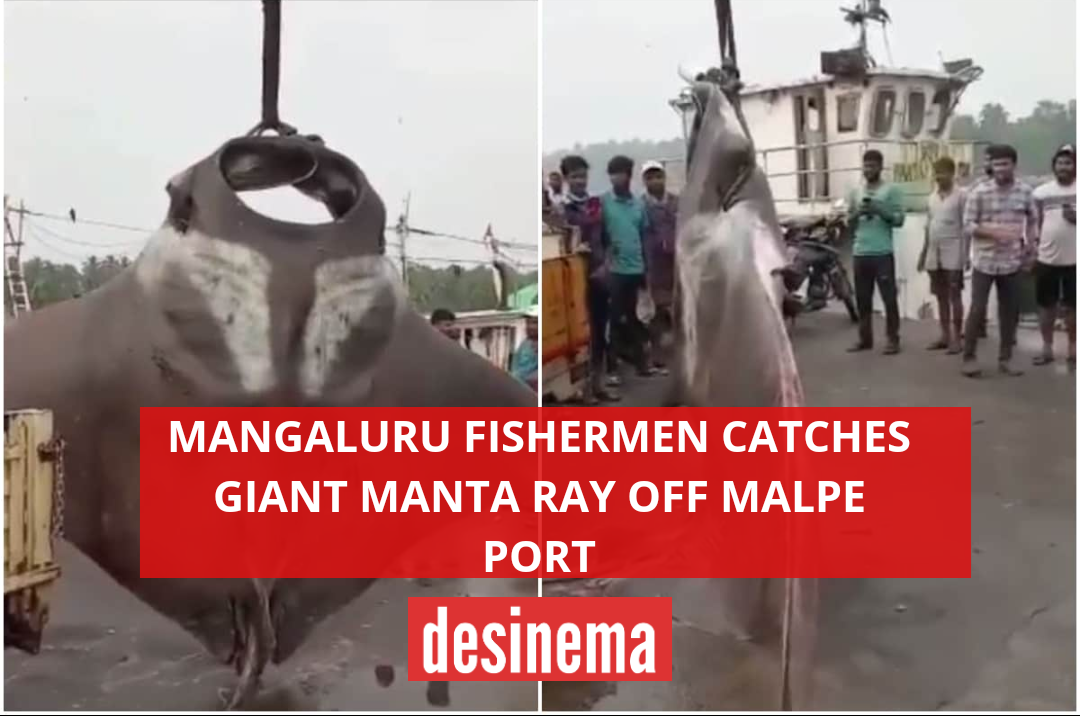 Two giant manta rays weighing 750 kg and 250 kg were caught by a fisherman off the coast of Karnataka on Wednesday.
The fisherman, identified as Subhash Sailan, made the big catch when he went deep sea fishing in Mangaluru off the Malpe port, according to a News Minute report.
As the manta rays were large and heavy, a crane had to be arranged to put them into a pick truck. Many locals gathered at the port area to have a look at the big haul. They were seen taking pictures and videos.Here is some of the shared videos
https://www.instagram.com/p/CGo_TqcHb0a/?igshid=1xcbbambxsnd0
Whoaa! https://t.co/BBt9bNDE3H

— Sanyukta (@dramadhikari) October 21, 2020
Two stingrays (thorake meenu) weighing 750 kg and 250 kg caught in Malpe fishing harbour in Udupi, Karnataka.

They were caught by a deep sea fishing boat Nagasiddhi owned by Subhash Salian. A crane was used to lower them onto a pickup truck before it was sold for a good price. pic.twitter.com/bduLFY7YIm

— Prajwal (@prajwalmanipal) October 22, 2020
Manta ray fish netted in Malpe#udupi @XpressBengaluru #fishing pic.twitter.com/7u2X1QznUq

— Prakash Samaga (@prakash_TNIE) October 22, 2020
A deep sea fishing boat that had sailed off from the Malpe port found that a giant stingray fish was trapped in its net. The fishermen of the area were taken aback by the sheer size of the fish, which weighed 750 kg. pic.twitter.com/4I9GrS94YC

— IANS Tweets (@ians_india) October 22, 2020
Images and videos of the same had gone viral on social media and personal messaging groups.
Speaking to The News Minute, former President of the Fishermen's Association in coastal Karnataka Yathish Baikampady said that the big catch is not too common nor is it too rare. The size may vary but they are caught fairly regularly. Since the incident happened in Malpe and not in a remote area where it would not be reported, a large crowd in Malpe used social media, after which it has gone viral. It is expected that the fish will be exported and will fetch a handsome price and it is also the first such large haul in the port of Malpe after deep sea fishing has resumed since the lockdown restrictions were lifted.