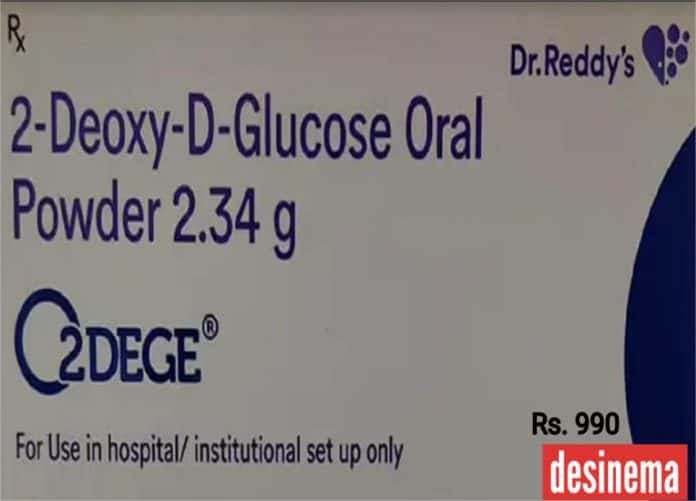 The anti-Covid drug developed by the Defence Research and Development Organisation (DRDO) has been priced at Rs 990 per sachet, However, the pharma company would provide the drug to the government hospitals, central and state governments at a discounted price.
The second batch of anti-COVID drug 2-DG was released by the manufacturer on Thursday. On May 26, the DRDO officials said that the second batch of 10,000 sachets of 2DG drug would be issued tomorrow (May 27) by Dr Reddy's Lab.
2-deoxy-D-glucose (2DG) is an oral anti-viral drug for Covid-19 patients. The drug has generated a lot of curiosity after it was launched on May 17 by the Ministry of Defence. It has been developed by the Institute of Nuclear Medicine and Allied Sciences (INMAS), a leading laboratory of the DRDO, in collaboration with Dr Reddy's Laboratories (DRL) in Hyderabad.
The drug would be available commercially now, the officials said while speaking to ANI.
Earlier this month, the Drugs Controller General of India (DGCI) had approved the oral drug for emergency use as an adjunct therapy to treat severe Covid patients. According to the Ministry of Defence, the drug during clinical trials showed that it facilitates faster recovery of hospitalised Covid patients and reduces dependence on supplemental oxygen. Higher proportion of patients treated with 2-DG showed RT-PCR negative conversion in COVID patients.
In April 2020, during the first wave of the pandemic, INMAS-DRDO scientists conducted laboratory experiments with the help of Centre for Cellular and Molecular Biology (CCMB), Hyderabad, and found that this molecule works effectively against SARS-CoV-2 virus and inhibits the viral growth.
During its release, the government said that clinical trial data show that the molecule helps in faster recovery of patients hospitalised with Covid-19, and reduces their dependence on supplemental oxygen.
The drug accumulates in virus-infected cells, and prevents the growth of the virus by stopping viral synthesis and energy production. Its selective accumulation in virally-infected cells makes this drug unique, a government release said.
"The drug will be of immense benefit to the people suffering from Covid-19," it added.
The drug is available in powder form in a sachet, and can be taken orally after dissolving in water.