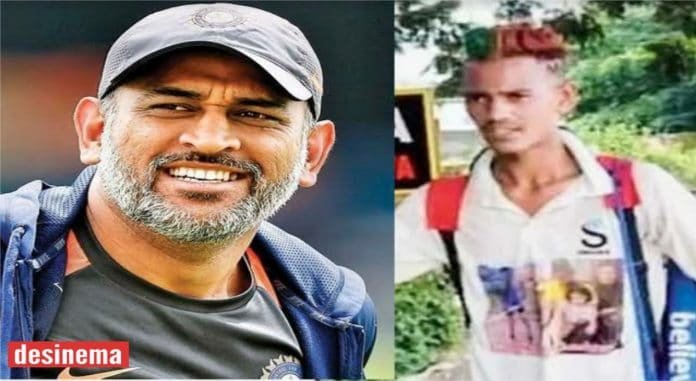 Former Indian captain MS Dhoni is indeed one of the finest cricketers ever and his achievements speak volumes of his prowess. During his illustrious international career, the wicketkeeper-batsman took Team India to several memorable wins across formats with his brilliance both in front and behind the stumps. The talismanic cricketer was also instrumental in taking India to title in the 2007 T20 World Cup, 2011 World Cup, and 2013 Champions Trophy.
Besides money and fame, Dhoni also earned a lot of fans with his brilliance over the 22 yards. A fan named Ajay Gill walked 1,400km to meet Dhoni. He was waiting outside the gate of MSD's farmhouse at Simalia on the outskirts of Ranchi on Friday morning.
As per reports suggest the fan was 18-year-old and he walked 1400km by foot from his village Jalan Kheda which is situated in Hisar district of Haryana. Ajay revealed that he walked 16 days starting from July 29 hoping that he will meet Dhoni at least for a very short period. However unfortunately it didn't happen. A news portal has interviewed that fan, Here's the video
The reason behind MS Dhoni not meeting his fans as he was very far away from his hometown. Notably, MS Dhoni is in Chennai and is scheduled to travel to UAE for the second phase of the Indian Premier League
Nonetheless, a gutted Ajay Gill was in no mood to go back and said that he had no hesitation in staying back till he met Dhoni despite being informed that the latter will not be back for about three months. He finally went back after being convinced by a young businessman. As per reports, Ajay was given a ticket for a Delhi-bound flight in the evening by the businessman.
Dhoni has numerous accolades to his name including the Rajiv Gandhi Khel Ratna; the Padma Shri, which is India's fourth-highest civilian honour; the Padma Bhushan, which is India's third-highest civilian honour; and has also been conferred with the honorary rank of Lieutenant Colonel in the Indian Army.