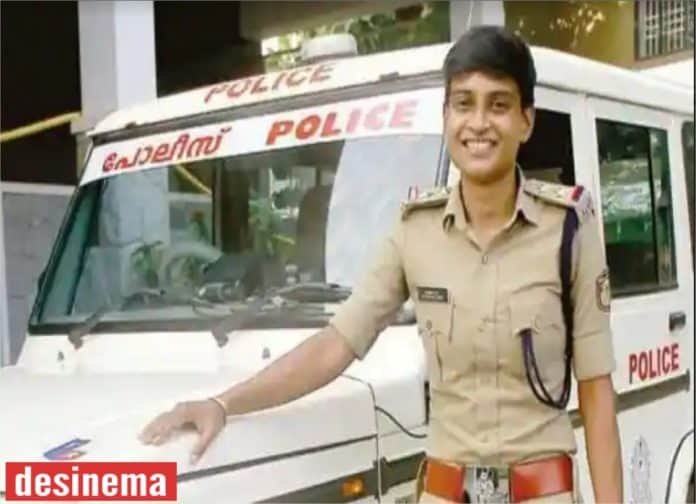 The kind of rags to riches tales took a different turn when Anie Siva, Sub Inspector of Police in the sleepy town of Varkala in Kerala became an overnight sensation with a life story of perseverance and will. Anie has now been appointed in Ernakulam district.
Anie was pursuing her graduation when cupid struck her at the age of 18, only to have a life that hit her harder than an iceberg. The first rejection came from husband when she was bearing their first child. The family forsaken young woman had nowhere else to go with an infant to look after
Anie is wonder-eyed for all the appreciation that has been pouring in when. She sat down for a talk with News 18. "I am amazed if this is for real. I am confused if this is the same society where I struggled for 15 long years. Countless women in this society deserve to be appreciated. Actor Suresh Gopi called me up to ask why I did not approach him when in need. In the face of misery, seeking help is only secondary. The first thing one would look for is a safe place to take shelter in. Upon joining the police force, I found many who are in need of a shoulder to cry on, so that their worries may vanish in a sudden."
V D Satheesan, Leader of Opposition, Kerala Assembly congratulated her and said 'her life and achievements are truly inspirational.
Congrats Anie Siva, SI of police! Estranged at 18yrs, Anie beat the odds alone to build a life for herself & her son. In a dismally male-dominated society where atrocities against vulnerable women are occurring every day, her life and achievements are truly inspirational." He tweeted.
I got to know that my posting is at Varkala police station only a few days back. This is a place where I shed many tears with my small child with no one to support me," Siva told the news agency.
"In stalls at Varkala Sivagiri Ashram, I tried many small businesses like selling lemonade, ice-cream to handmade crafts. Everything flopped. It was then a man suggested and helped me with money to study and write a sub-inspector test."
"I always wanted to be an IPS officer. But fate had other things in store. Now, I feel proud and also emotional with the kind of support I am getting after many shared my Facebook post in which I shared my joy in a brief note," she said.