Paul Walker, a star of "The Fast and the Furious" film franchise, has died after a car crash.
Co-star of the Fast & Furious franchise, car guy, and actor Paul Walker is dead after a fiery car crash in Santa Clarita, California today. Walker was 40.
Walker's spokesperson has officially confirmed the death via the actor's Facebook fan page and Twitter, stating:
"It is with a truly heavy heart that we must confirm that Paul Walker passed away today in a tragic car accident while attending a charity event for his organization Reach Out Worldwide. He was a passenger in a friend's car, in which both lost their lives. We appreciate your patience as we too are stunned and saddened beyond belief by this news. Thank you for keeping his family and friends in your prayers during this very difficult time. We will do our best to keep you apprised on where to send condolences. – #TeamPW"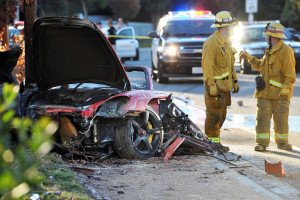 Born Paul William Walker IV in Glendale, Calif., Walker starred in such films as "Varsity Blues," "Into the Blue" and "Takers," but it was "The Fast and the Furious" in 2001 that won him his greatest fame. The movie, which spawned several sequels, featured high-powered vehicles, car chases and street-racing scenes.
"Fast & Furious 6″ has taken in $238,679,850 at the box office so far, according to Box Office Mojo.
The news that Walker had died after a car crash spurred stunned tributes to him on Twitter from friends and fellow actors.
"Paul Walker is the reason I wanted to drive a car in the first place," one tweet said.