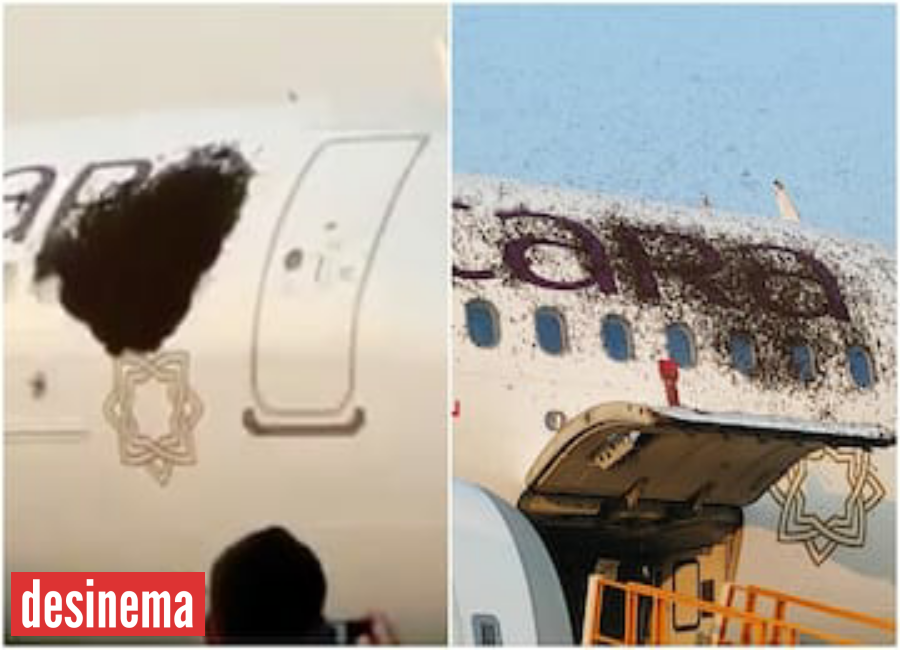 A Video of bees hijacking is doing rounds on the internet. In a bizarre incident, a swarm of bees clamped themselves onto the window of an Air Vistara flight at the Netaji Subhash Chandra Bose International Airport in Kolkata.
https://twitter.com/shukla_tarun/status/1333304277935091713
The viral video shared on Twitter, it shows the fire department using water jets to remove the bees from the parked aircraft. "Looks like honey pancakes inside," read the caption of the video.
https://twitter.com/shukla_tarun/status/1333333347712393216
The incident took place when the flight was to line up for its scheduled take-off. The Flight 9I 867 of Alliance Air, a subsidiary of Air India, couldn't push back when a group of bees surrounded the twin-engine turboprop. 
Though the aircraft's door was shut to stop bees from entering it, the pilot got in touch with the Air Traffic Control (ATC) who in turn informed the airport operator. The pilot had to then call for a spray to get rid of the bees.
It happened twice –
You would think that this event only happened once during the day. But no. According to The Times of India, another Vistara aircraft was surrounded by bees on Monday. This aircraft, another A320neo registration VT-TNR, was leaving Kolkata on a flight to Port Blair.
What they have in common is that both airplanes were parked around the same place, bay 25.
Unlike the first incident, this second bee attack wasn't recorded and posted on social media. Additionally, no one was hurt. None of the planes had passengers when the bees swarmed them.
After the two incidents, Kolkata's airport director, Kaushik Bhattacharjee, made a statement. He said,
"On both occasions, fire brigade personnel sprayed water from water cannons on the swarm of bees to drive them away. Following the back to back incidents, a team of officials from Kolkata airport searched the area and sprayed insecticide in the surrounding places. However, even after an extensive search, no beehives were spotted in the zone."