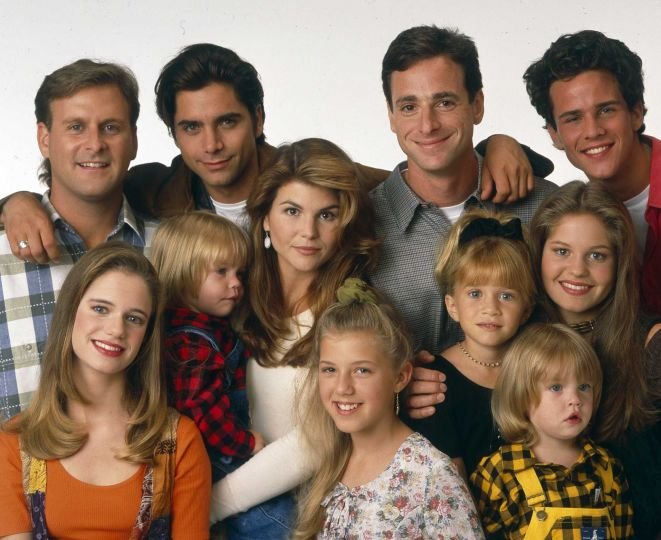 1987 was a big year for trios of men banding together and raising families. On the big screen you had 'Three Men and a Baby' and on TV there was the debut of 'Full House.'
Thanks to Danny, Uncle Jesse, Uncle Joey and their young charges (and their many catchphrases), 'Full House' was a hit for ABC, and became the anchor of their TGIF Friday lineup. The sitcom lasted for eight seasons and made all of its stars household names.
See what the cast of 'Full House' is up to these days below
Starting of with: "Uncle Jesse", Have mercy!
John Stamos, Jesse Katsopolis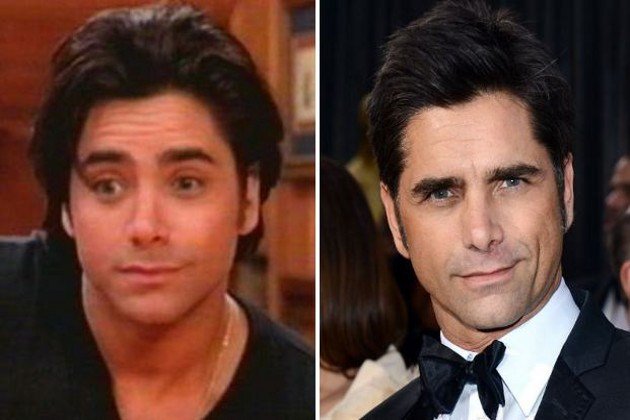 Then: Stamos played hair-obsessed bad-boy rocker Jesse Katsopolis. Having cut his teeth on the daytime soap 'General Hospital,' Stamos got a starring role on the Jack Klugman sitcom 'You Again?' That led to 'Full House' and a lifetime of "Uncle Jesse" shrieks from admiring fans.
Now: Stamos has been a pretty steady presence on TV since 'Full House' ended. Star vehicles 'Thieves' and 'Jake In Progress' never really caught on, but he had a nice long run as Dr. Tony Gates on 'ER.' More recently he's popped up on 'The New Normal' and 'Glee.' A multi-instrumental musician, Stamos performed with the Beach Boys on their 50th anniversary tour (just like Jesse did in the episode 'Beach Boy Bingo')
Bob Saget, Danny Tanner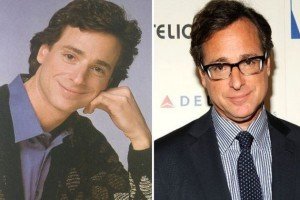 Then: Saget played everyone's favorite cheesy dad Danny Tanner, a heartbroken recent widower who invites his brother-in-law and best friend to live with him and help raise his three daughters. For most of the time he was playing Tanner, Saget was also hosting 'America's Funniest Home Videos.'
Now: As we now all know, when Saget isn't fronting a family-friendly sitcom he's a stand-up comic and one who's not afraid to go really blue. Besides making offensive jokes, Saget has been narrating 'How I Met Your Mother' since 2005. He attempted to come back as a sitcom actor in 2009, but 'Surviving Suburbia' only lasted half a season before being cancelled.
Beach Boys on their 50th anniversary tour (just like Jesse did in the episode 'Beach Boy Bingo.')
 Then: You surely remember Dave Coulier, who added comic relief to 'Full House' as stand-up comic Joey Gladstone. It was fitting that "Uncle Joey" was known for his impersonations, since most of Coulier previous TV experience had come as a voice actor. During 'Full House,' Coulier dated Alanis Morissette and has said he believes he could be the ex-boyfriend in her song 'You Oughta Know.'
Now: These days, Coulier is primarily a stand-up comic. In sharp contrast to his TV bestie Bob Saget, Coulier's brand of humor is aggressively family friendly. In fact, in 2008 he was part of the "Clean Guys of Comedy Tour."
Then: Cameron played eldest daughter D.J. Tanner on 'Full House.' Having followed her brother Kirk Cameron into acting, Candace was six when she snagged the recurring role of Megan White on 'St. Elsewhere.' Her pre-'Full House' career also included guest spots on 'Growing Pains,' 'T.J. Hooker' and 'Who's The Boss?'
Now: Between 2009 and 2012 Cameron starred on the ABC Family show 'Make it or Break it.' She married hockey super star Valeri Bure (whom she was introduced to by Dave Coulier) and the pair have three children.
Then: On 'Full House' Sweetin was middle daughter Stephanie Tanner, a wisecracking tomboy. In 1999 she popped up on a couple episodes of 'Party of Five' as Rhiannon Marcus.
Now: Sweetin made waves in 2006 when she went public with her struggles with meth addiction. Sober now, the mother of two has been making her way back into the entertainment industry. In 2009 she appeared in a pair of small films, 'Port City' and 'Refining Love.' She is rumored to be the voice of the Mermaid Princess in the upcoming animated film 'Jacob and the Gnome.' And she briefly hosted the memorable Fuse dance show 'Pants-Off, Dance-Off.'
Then: America watched Mary-Kate and Ashley Olsen grow up in their shared role of Michelle Tanner on 'Full House,' which they began as nine-month-olds. The fraternal twins used 'Full House' as a springboard to a media empire which included movies, videos, books, clothes and a magazine and that has made the pair among the wealthiest women in the entertainment industry.
Now: Ashley Olsen stopped acting after 2004's 'New York Minute' to focus on their fashion empire, whereas Mary-Kate has been in movies such as 'The Wackness' and 'Beastly' and did a season of 'Weeds.' These days, the twins seem to be most focused on fashion design leaving the acting to younger sister Elizabeth, who is set to star in four movies in 2013 after breaking out in the indie drama 'Martha Marcy May Marlene.'
Now: Barber retired from acting after 'Full House,' instead focusing on college and then being a mom to her two children. But she had a return to the screen of sorts in 2012 in a (NSFW) Funny or Die video with fellow 'Full House' alum Dave Coulier. The comedy short appeared to have rekindled Barber's interest in acting, and she recently hinted at a Hollywood return.
 Then: Loughlin was a regular sitcom presence as Becky, Danny's colleague and Jesse's girlfriend turned wife. The former print model got her acting start as a 15-year-old on the soap 'Edge of the Night.' After 'Full House,' she guest-starred on shows such as 'Seinfeld' and 'Spin City.'
Now: Loughlin played Debbi Wilson for the first three seasons of the 'Beverly Hills, 90210' update '90210.' She is set to star in the upcoming TV move 'When Calls The Heart.' She has two daughters with her husband, fashion designer Mossimo Giannulli.
Then: Scott Weinger joined 'Full House' in its fifth season as D.J.'s boyfriend Steve Hale. Previously he had been known for playing Steve Taylor on the sitcom 'The Family Man.' While doing 'Full House,' Weinger was also the voice of the title character in Disney's 'Aladdin' feature film, a role he continued in the subsequent TV series.
Now: These days Weinger is a writer and producer who has worked on episodes of 'What I Like About You,' 'Privileged' and '90210.'