ICC World Cup 2019 Full Schedule with date and venue
The International Cricket Council on Thursday as announced the ICC Cricket World Cup 2019 schedule.
It will be staged in England and Wales from 30 May to 14 July 2019.
The opening match will be between England and South Africa at The Oval.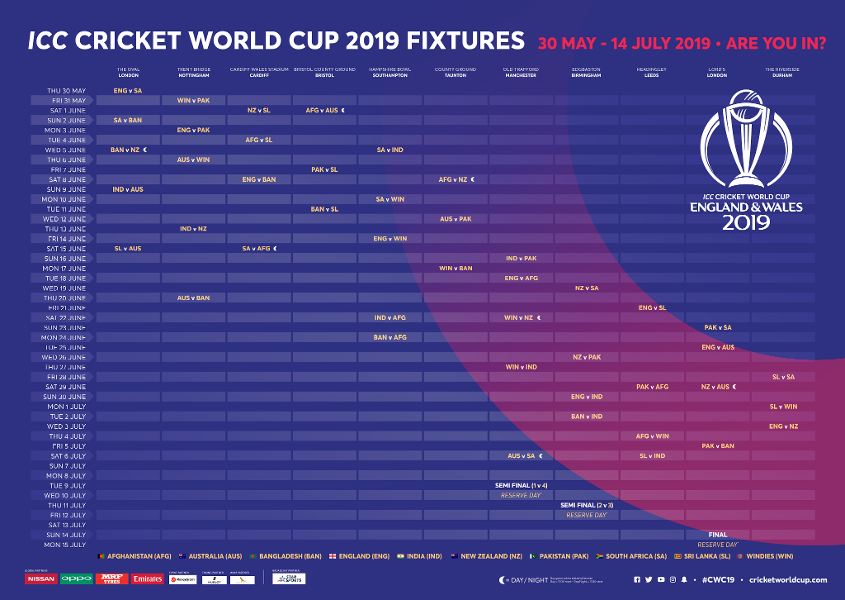 ICC Chief Executive David Richardson said: "It's always an exciting moment ahead of any major event to announce the schedule and for the ICC Cricket World Cup. Next summer fans around the world will be treated to compelling and competitive cricket as the best teams in the world go head to head in this round-robin format for the right to be crowned World Champions.
"This schedule also gives fans across England and Wales the opportunity to watch world-class cricket on their doorstep with all teams moving around the country. We know from previous ICC events that every country will be proudly supported at each of the venues creating an exceptional atmosphere and a real celebration of the game."
ICC Cricket World Cup 2019 Managing Director Steve Elworthy said: "Today's announcement of the schedule is another important moment in the build-up to the ICC Cricket World Cup 2019 – the moment that the tournament comes to life for teams and cricket lovers across the world. This is the flagship event in one-day cricket.
"There are some fantastic head-to-head fixtures – England v Australia at Lord's and India v Pakistan at Old Trafford as well as England v India at Edgbaston spring to mind. As organisers we can promise the teams and fans we will work hard to provide the perfect stage for this event.
"Because of the UK's diverse population, every competing team will also be guaranteed a 'home crowd' every time they play at some of the most iconic cricket grounds in the world.
"The Cricket World Cup is the third most watched global event and has huge interest and appeal amongst cricket fans. Our ambition is to grow the game and deliver the greatest ever cricket celebration and with that in mind we have very carefully developed our ticket prices.
"The prices have been tested with thousands of fans over the last six months, we have used external experts and consulted widely to ensure that they are good value versus other global sporting events. The prices balance accessibility with delivering the investment required to deliver a world-class event. All revenue is invested back in the game to grow cricket."
Ticket prices offered are as follows:
• 80,000+ tickets at £20 (over half of the group stage matches)
• 200,000+ tickets at £50 or less
• Child tickets at every match, starting from £6
• Family of four for £52
ICC Cricket World Cup 2019 Schedule: by venue
Cardiff Wales Stadium, Cardiff
1 June – New Zealand v Sri Lanka (d)
4 June – Afghanistan v Sri Lanka (d)
8 June – England v Bangladesh (d)
15 June – South Africa v Afghanistan (d/n)
County Ground Bristol, Bristol
1 June – Afghanistan v Australia (d/n)
7 June – Pakistan v Sri Lanka (d)
11 June – Bangladesh v Sri Lanka (d)
County Ground Taunton, Taunton
8 June – Afghanistan v New Zealand (d/n)
12 June – Australia v Pakistan (d)
17 June – Windies v Bangladesh (d)
Edgbaston, Birmingham
19 June – New Zealand v South Africa (d)
26 June – New Zealand v Pakistan (d)
30 June – England v India (d)
2 July – Bangladesh v India (d)
11 July – Second semi-final (2 v 3) (d)
12 July – Reserve day
Hampshire Bowl, Southampton
5 June – South Africa v India (d)
10 June – South Africa v Windies (d)
14 June – England v Windies (d)
22 June – India v Afghanistan (d)
24 June – Bangladesh v Afghanistan (d)
Headingley, Leeds
21 June – England v Sri Lanka (d)
29 June – Pakistan v Afghanistan (d)
4 July – Afghanistan v Windies (d)
6 July – Sri Lanka v India (d)
Lord's, London
23 June – Pakistan v South Africa (d)
25 June – England v Australia (d)
29 June – New Zealand v Australia (d/n)
5 July – Pakistan v Bangladesh (d/n)
14 July – Final (d)
15 July – Reserve day
Old Trafford, Manchester
16 June – India v Pakistan (d)
18 June – England v Afghanistan (d)
22 June – Windies v New Zealand (d/n)
27 June – Windies v India (d)
6 July – Australia v South Africa (d/n)
9 July – First semifinal (1 v 4) (d)
10 July – Reserve day
The Oval, London
30 May – England v South Africa (d)
2 June –South Africa v Bangladesh (d)
5 June – Bangladesh v New Zealand (d/n)
9 June – India v Australia (d)
15 June – Sri Lanka v Australia (d)
The Riverside, Chester-le-Street
28 June – Sri Lanka v South Africa (d)
1 July – Sri Lanka v Windies (d)
3 July – England v New Zealand (d)
Trent Bridge, Nottingham
31 May – Windies v Pakistan (d)
3 June – England v Pakistan (d)
6 June – Australia v Windies (d)
13 June – India v New Zealand (d)
20 June – Australia v Bangladesh (d)