The summers can turn pretty hot in Australia. Sweating at an average of 65 per cent humidity, the beach becomes inviting. Time to hit the beach and find your perfect swimwear online. Finding the right swimsuit is a challenge. Going through a lot of designs that flatter your figure is one thing, but choosing that one swimsuit you like and are comfortable in is another. When you try on a swimsuit, and it fits you perfectly, it's love at first sight for some. The key is finding the right swimwear that flatters your body type and is something that you like.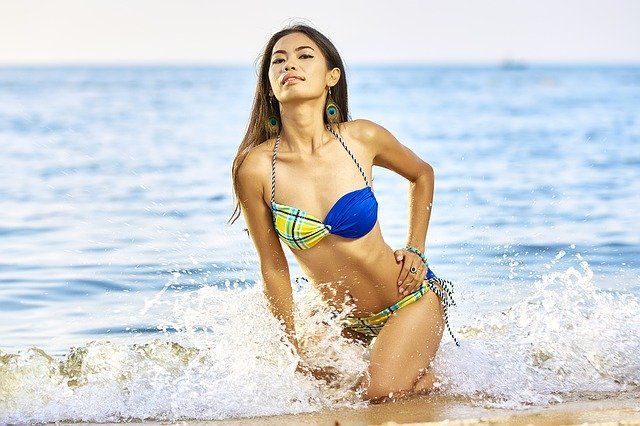 Go Bold
Before, bold and bright colours were not the de rigueur for dark skin. But bold colours look good when you have dark skin. Whether you have dark skin or fair skin, bright colours will compliment your skin. But it is best to stay away from colours that are too close to the shade of your skin. You do want to accentuate, not fade away into the background.
With more than 50,000 kilometres in the coastline, Australia is every shade of blue you can think of. You can try a bold shade of blue in choosing a swimwear. What makes blue so universal is that almost everyone loves a particular shade of it. If blue is not your thing, you can zoom into power dressing. Try red. Who says that power dressing only goes on in 3-piece suits?
Go Linear
Lines in clothing can accentuate body shape. If you want to appear taller, wear swimwear that can make you look taller. Vertical lines are known to emphasise height. Such lines are also said to have a stimulating effect. Also, some swimwear is designed to highlight your bust line or hips with the use of horizontal stripes. You can browse for swimwear online. If the hips appear wider, then your waist may appear smaller. Moreso, science shows that horizontal lines have a calming effect. For a completely different look, go with diagonal lines. These lines will divert focus on your curves as it brings about the effects of both horizontal and vertical stripes.
Go Classic
White and black are some of the most classical colours around. The colours that never go out of style, you can never go wrong with these two. Known as the colour for revenge, the little black dress has relabeled black to carry one powerful message. This message goes for your little black swimsuit as well.
As a tip, if you want to make your bust appear bigger and your hips appear smaller, you can combine a white top with a black bottom. Similarly, a white bottom and a white top will highlight the size of your chest and hips.
Go Printed
Just like a picture, vision is almost always diverted to where there are large prints. Instead of using stripes on your swimwear, you can choose swimwear online with large prints. Not only does it accentuate parts of your body, but it is also fun. To dig in on the ocean theme, you can wear swimwear with all colours of the Great Barrier Reef in it. If you like flowers, there are a lot of designs you can choose from. But why not hit two birds with one stone? You can have fun with a tiger print with vertical striping. As a plus, this print also highlights your height.
May it be Bondi Beach, Wineglass Bay, or Mandalay Beach in Australia, to name a few, planning for your summer vacation need not be tedious. In particular, choosing swimwear can get frustrating and complicated. There are a lot of designs to choose from as well as a variety of styles too. But remember, when it gets complicated, the solution is simpler than you think.