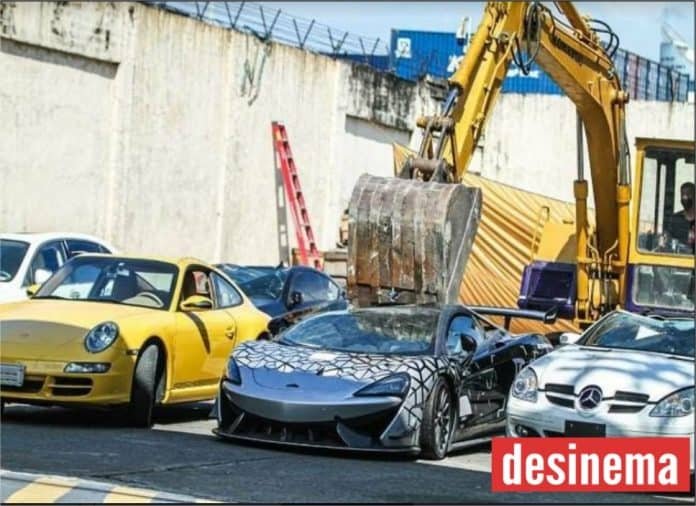 The Philippines Bureau of Customs destroyed 21 smuggled motor vehicles worth Rs.89 crore in grand fashion this week, crushing them with a backhoe. In two separate, simultaneous events in Manila and Cagayan de Oro, 14 Mitsubishi Jeeps and seven cars of varying makes were obliterated.
As per the Bureau of Customs, all these luxury cars were "smuggled" into the country by different consignees. They were seized on separate occasions from 2018 to 2020.
The roster of vehicles crushed is enough to make any car enthusiast cringe. It includes a new McLaren 620R with the R Pack from McLaren Special Operations, which includes a gloss finish visual carbon fiber roof scoop, gloss finish visual carbon fiber front fender louvres and a carbon fiber interior pack. It also has an MSO Defined Titanium SuperSports Exhaust, which increases the loudness of the burble by up to five decibels. Just 225 examples of the model were produced with a price tag of around $335,000 without any additional customization
This particular crushing is part of a lasting campaign to crack down on illegal car importation, an issue apparently very close to the heart of Philippines president Rodrigo Duterte. He ordered a similar crushing in 2018, an event that involved a tractor driving over a startling $8 million of cars in a monster truck-like exhibition of punishment. This particular crushing is less destructive, but there is something particularly cruel about smashing the roof of each car individually for the sole purpose of destroying something.
That is the point, of course. All the smashing is meant to discourage importation by showing that the end result for anyone who tries is a car crushed in front of them for the whole world to see.
The new round of destruction has evoked mixed reactions from people as some have questioned the system as to why these luxury vehicles were not auctioned for a good cause.