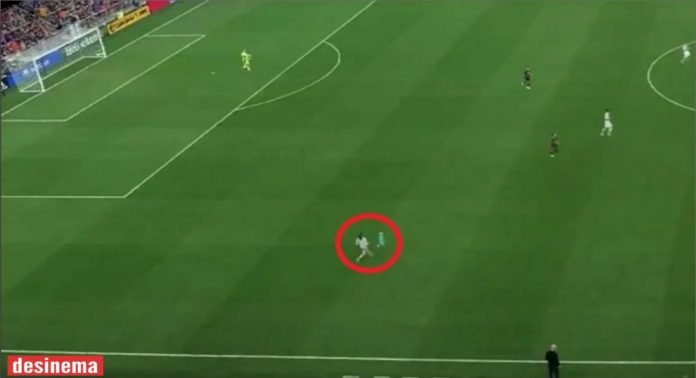 The audience of a sports match sometimes takes away the limelight by bringing interesting posters for a team they are supporting or a player for whom they have come to witness the match.
But, this time, a toddler has caught the attention of players and the audience during a soccer match. A woman watching a soccer match was stunned after her son ran onto the soccer field as the game was in progress. The woman, upon spotting her son, ran into the field and carried him back to their seats.
The funny moment that has gone viral on the internet has been shared by Major League Soccer on Twitter. The video has been posted alongside the caption, "We hope this mother and her young pitch invader are having a great day." Watch the video here:
The video shows the young child invading the football pitch at top speed. Not far behind is the mom, sprinting across the pitch to reach her kin before he interrupts the football match.
When she catches up to him, the mom slips as she tries to break her sprint and catch hold of the toddler. The slip inadvertently makes her tackle the young kid.
In an interview, Carpenter's mother, Morgan Tucker, described her experience. "I literally looked away for one second," the Ohio resident said, adding that Carpenter was under the fence by then. She said that she had to "jump over the gate" to sprint after him. She and Carpenter were later seen enjoying the game, without a rerun of the tackle.
Viewers were left in splits by the clip. Several praised the quick reflexes of the mother, while others have joked about toddlers, saying that they could be the fastest humans on the planet. The hilarious clip has been viewed over 2,49,000 times to date.