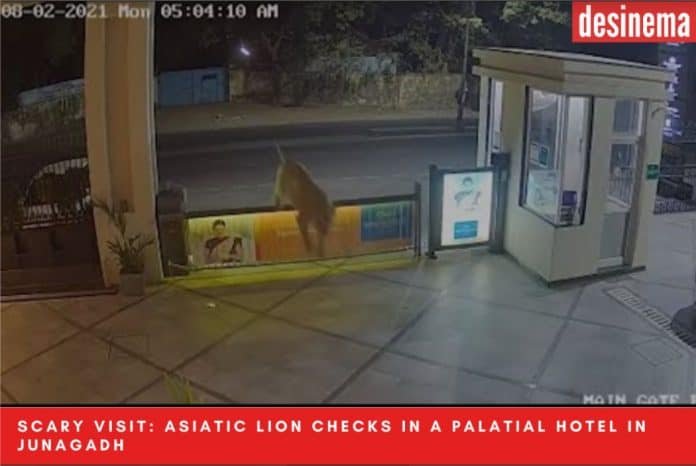 In a thrilling incident, an Asiatic Lion was sighted in the brand new hotel "Sarovar Portico" located in the heart of the city of Junagadh. The hotel was inaugurated in September 2019. The lion was there for a stroll that was nothing less than scary for the people. The CCTV footage of the Asiatic lion roaming in the premises of the hotel went viral on Social Media and was shared by thousands of people in hundreds of accounts in a few hours.
The lion was from the nearby Girnar Forests. Junagadh is located near the Girnar Wildlife Sanctuary and the sanctuary is home to few dozens of Asiatic Lions. With the population increase sightings of the big cat have happened a few times in the past too. The CCTV camera caught the royal guest entering the parking premises while the security guard is seen sulking in his chair at the sight. The lion stayed not more than a minute and was seen hurriedly leaving the upper market hotel. The lion sighting at the hotel was around 5:04 A.M.
"The watchman at the gate was alert and stayed quiet as the lion entered the hotel premises. Through the intercom, he alerted other staff members about the presence of the animal in the hotel and asked them to keep doors and windows shut. The CCTV footage suggests that the lion had apparently lost its way and left the hotel premises soon after finding that it was going in the wrong direction. No untoward incident was reported," Sanjay Koradia, the managing partner of Sarovar Portico Hotel told the media
He also said "There were a lot of guests in our hotel at the time the lion entered our premises. However, it being early hours of the day, most of them were in their rooms and there was little
activity on the ground floor,"
As soon as the Asiatic Lion was sighted at the hotel, the authorities informed the police department and they arrived at the scene. "The lion had apparently strayed into the city after losing its way. It has since returned to the jungle and nothing untoward was reported that night. It is only after the CCTV footage went viral that people in that area are checking footage of their CCTV cameras and are sharing visuals of the lion," Sunil Berwal, the Deputy Conservator of Forests (DCF) of Junagadh territorial forest division, said.