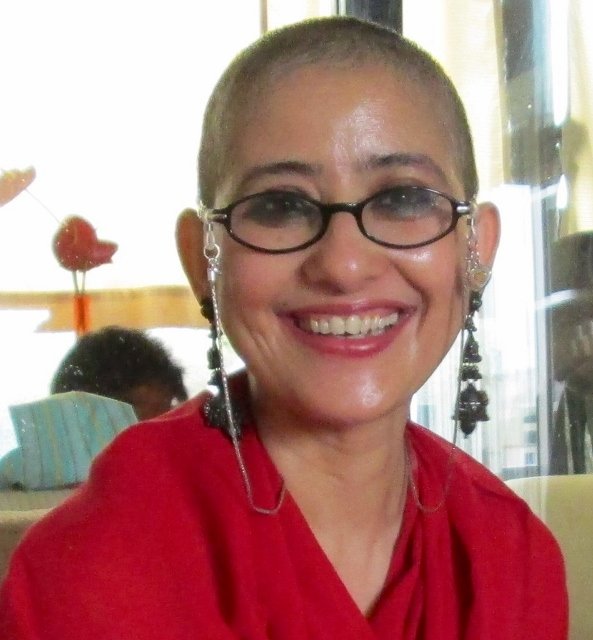 Manisha Koirala, on her crusade against cancer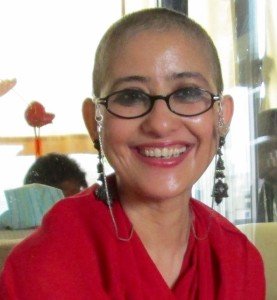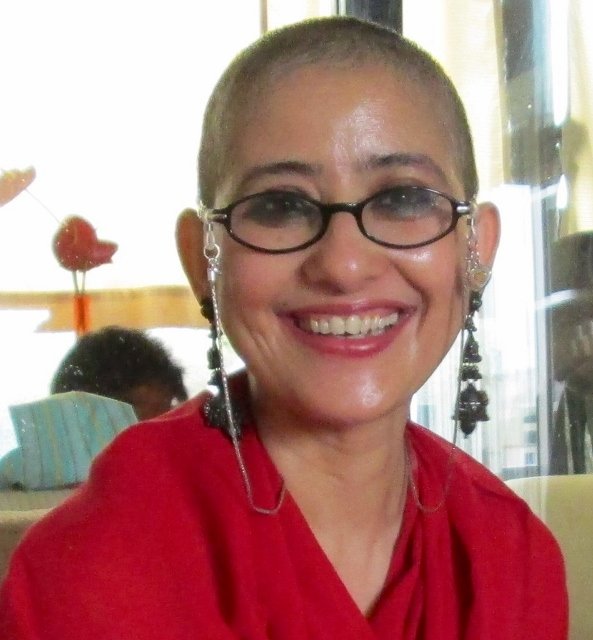 Times of India Interview: 

Manisha Koirala on her trip to Kolkata
There was a time when her body would hurt so much that she would collapse in her bed. Today, even if she wants to conveniently forget about the tough times, it's never easy. Manisha Koirala is not just a survivor. In her own words, she is a cancer crusader and will grab every opportunity to raise awareness about the disease. In Kolkata, the reclusive actress opened up about her struggles and what kept her afloat. Excerpts:
Yuvraj Singh was not just happy to see you in Kolkata, but also said that you are looking 10 years younger…
Yuvraj is such an icon! He went through a tough time and has come out so well. It was lovely sharing the same platform with him in Kolkata. I remember calling him after landing in Mumbai. I said, 'Yuvi I need your secrets. How did you bounce back? What did you eat?' He told me, 'Mil ke batuanga'. About me, I'm still the same. I'm trying to shed a lot more weight. My oncologist has told me, 'Manisha, I want to see you lean and mean'. I need to lose three-four kilos more. She has asked me to train well, be on a healthy diet and I'm doing yoga as well. I ply between Kathmandu and Mumbai and I've found a good set of people in Mumbai and Nepal. I'm doing yoga, pranayama, meditation and in Mumbai, I have also found a good gym.
You needed strong willpower to bounce back…
What you also need is strict parents (laughs). My father (Prakash Koirala) is extremely strict and my mother (Sushma), extremely concerned. My father would often ask me, 'Why have you eaten something from the bazar?' I'd say, 'Who has told you that I've eaten outside?' My mother must have called him… So, basically, it's team work. My father is a health freak. After falling ill, he has turned his life upside down. Earlier, he wouldn't care. In Nepal, we all know that everybody is fond of alcohol and smoking. But now, no one in my family drinks. My father walks 7-8 km every morning. If he has missed it, he'll be in the garden roaming around. What we get at home is 100% organic food. We are also 90% vegetarian. But I was told by a Tibetan doctor to have a little bit of a paya soup.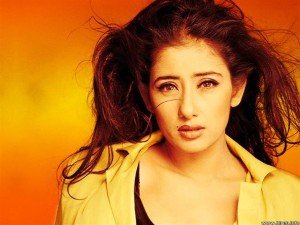 How strict are your parents?
They are very strict. During my treatment, I was asked to walk and I would do so for an hour every day, barring those 3-4 days when it would be really tough. That helped me. Fardeen (Khan) and Laila, because their dad (the late Feroz Khan) had passed away from cancer, would text me often and say, 'Manisha please eat healthy and definitely go for walks'. I had made that into a habit. After coming back to Mumbai, I started asking my friends, where do I get organic food. It's still not there. I seriously want that culture to come into our part of the world.
There must have been days when you thought of giving up…
Oh my God! These are the days that I have conveniently forgotten and make it sound like they didn't exist. I keep thinking it was all hunky-dory, but honestly, it wasn't. Yesterday, I finished reading Yuvraj's book — The Test of My Life — at one go. I could relate to it so much. It reminded me of the days that I don't want to think about. All my memories came back.
I remember my nurse telling me on the first day, 'Manisha, it's going to be tough'. My heart sank. How tough? Then, her next sentence was, 'But you can do it'. I thought till I die, they are going to tell me that. I didn't believe her. I didn't believe I could do it. There were horrible days when my bones would hurt like crazy. I would just collapse in bed. I tried to take as few medicines as possible because I knew every medicine was going to have a side-effect. Then, there were days when I couldn't help but take the medicines and even they wouldn't help. In those times, I realized how my family loved me. My brother would sit by my side for four-five hours at a stretch, trying to divert my mind by saying, 'Do you want to see this movie, that movie?'. He would massage my legs and ask, 'Where is it hurting?' He would hold me and take me out for walks at 2 or maybe, 4 in the morning. There was a time when I wouldn't be able to take one step at a time and my father would say, 'Take one step and breathe'. It was really tough. Now, I have learnt to deal with it. But I don't know how I would have made it if I didn't have my father, mother and brother around me.
There's a fear factor associated with the disease…
I have been following the Oneness University for seven-eight years now. I would talk to one of my main guides, Namanji, for hours on end. He would explain to me the nature of fear, the nature of the mind. It really helped me. He told me, 'Watch your thoughts'. The fear of death can only bring ugly, daravni thoughts. The moment I started watching my thoughts, I realized how futile fear is.
Weren't you also inspired by Lisa Ray? My doctors said don't browse the web, but I didn't listen. Lisa came to me as a ray of hope. I started reading her blogs, how she was all alone when she dealt with the disease. Here I was, with my family around me. She inspired me when she said it's okay to cut your hair short. And she looked so pretty with her bald pate. I thought, I wouldn't look bad either. She called it a chemo cut and had a humorous twang to everything. I am so happy that she is out of it, looks absolutely gorgeous, has a wonderful man in her life and has a great career ahead.
Today, you call yourself a cancer crusader, not just a survivor…
I want to talk about all the wrong information associated with the disease. The moment you hear about the disease, you are like, cancer ho gaya! It means death. It has also been part of our film culture. You think, it's incurable, you are going die, so it's better to pity the person… For God's sake, the survival rates have increased from 5% to 70%. If you build your immune system, eat right, God knows how long you are going to live!
Yes, the treatment is not cheap. Probably we need to do something to make it cheaper. But then, all other treatments are expensive. If you have health, you can get back all that you lost. Life is about falling down, getting up and moving ahead. Some people just give it up. Many don't take chemotherapy because they think they will become bald! Arre so what if you are bald for three-four months? Hair will grow back. Who says only people with hair are beautiful? When I told Namanji, my guide, that you know I'm a film actress and I'll be bald, he laughed and said, 'Look at Anupam Kherji. He is both handsome and bald'. I said, but he is a man. He made me understand that it's okay. Again, a lot of people told me, 'Manisha, you are taking chemo, it's poison, poison, poison…' I said sorry, but that's going to kill my cancer right now. I would call it vitamin shots. I would even lie to my brain and ask it to accept the medicine. Fear, I knew, would reject it.
When in New York, you were missing home terribly…
It was very tough in a foreign land. Though I love New York, it's one of my favourite places and I have studied there, it was different being there for cancer treatment. There I was in one of the best hotels and it was snowing outside during Christmas. It was so beautiful and romantic and people were in holiday mood, but I couldn't enjoy any of that. Then it was time for monsoon and I thought Mumbai must be looking all washed and green, I was missing my terrace and my friends. It was also tough for my parents to adjust to the lifestyle in the west.
In one of tweets, you wrote about being disappointed with your friends…
You do expect your friends to be there. But while reading Yuvraj's book, I realized that he too didn't have many people around him. He was just part of the winning World Cup team and there were zillions of people flocking around him. Then, during the treatment, who was with him? His mother and a few of his friends. In difficult times, few are there who are useful. That's a fact of life.
You are coming to the city after a long gap and Rituparno Ghosh, with whom you worked in Khela, is not there… I didn't expect that he would go away so soon. The doctor who had come to see me today was also Rituda's physician. Dada had sugar issues. He would take insulin and then, he would not eat. His sugar levels dropped and he just went in his sleep. These are the mistakes that people make. It's my mission in life to tell people how to take care of your health. We are reaching late, eating on the run, yeh income tax pay karna hai, wahan VIP anewala hai… bhag daur itna hai ki we don't have time for our body or mind. We need to slow down.
When are you starting work?
Now, my focus is on overall health. I'm trying organic food and have resorted to traditional processes of healing. There's ayurveda, Tibetan and Chinese medicines, age-old stuff…. I want to make my body strong. I'll start work in January-February. Before that, I need to complete the Malayalam film, Edavapathi: No Man's Land, in November-December. I have a few interesting offers, I'll talk about them later. I have also started writing my book. By December, I will have a bit of a work done on that. Then there's my organization that will talk about preventable diseases. I have paintings to do, films to start, other charitable works to concentrate on… There's a lot on my platter.