The past few years have been a rollercoaster ride for Akanksha Prabhune, a television and film Producer based in Los Angeles. The sprawling metropolis is known for its multitude of creative individuals pursuing their dreams of working in the entertainment industry. Working in Hollywood has kept Akanksha busy, as she works on a diverse range of projects and collaborates with people from all over the world. She is a part of the small group of Indian filmmakers that have carved a space for themselves in the entertainment industry in LA.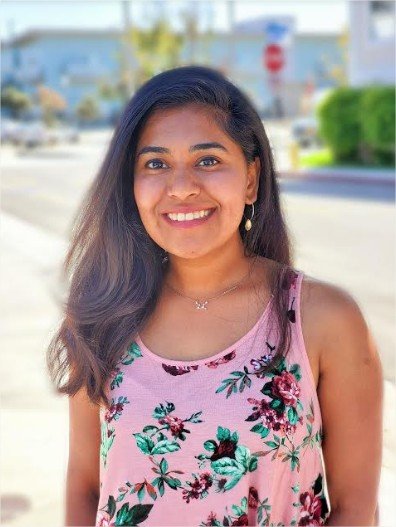 In 2019, she worked on two shows for two different networks – the National Geographic channel and the Oxygen channel. She worked as an Associate Producer on season 2 of "Howie Mandel's Animals Doing Things" as well as season 2 of "A Wedding and a Murder". "Howie Mandel's Animals Doing Things" is a comedy show that airs on National Geographic Wild. It is hosted and Executive Produced by well-known actor and comedian Howie Mandel, who is known for his work on "America's Got Talent" and "Deal or No Deal".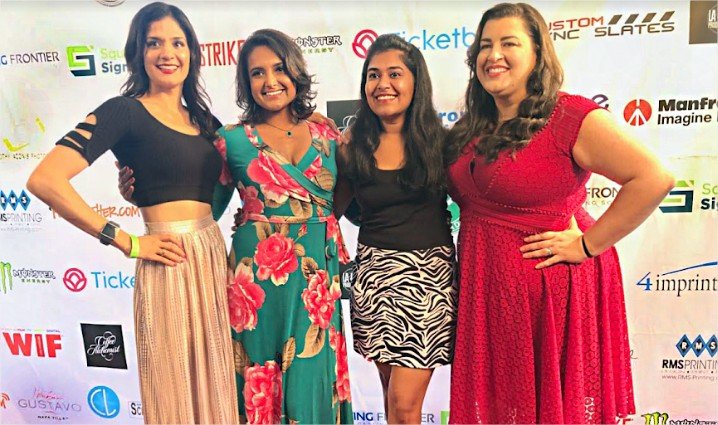 "The entertainment industry has a reputation for being callous and people warn you that it's hard to meet genuinely kind, helpful people. But my team for the Howie Mandel show was amazing. Never did I wake up thinking "ugh, I have to go to work."," Akanksha explains. "It taught me how to get work done but also make sure work is enjoyable. Not every day is going to be stress-free but if you enjoy working with the people around you, it's worth it. This experience has really shaped my work ethic."
"A Wedding and a Murder" is a true-crime show that airs on the Oxygen channel. The Oxygen channel is an American pay television channel that primarily airs true crime programming targeted towards women.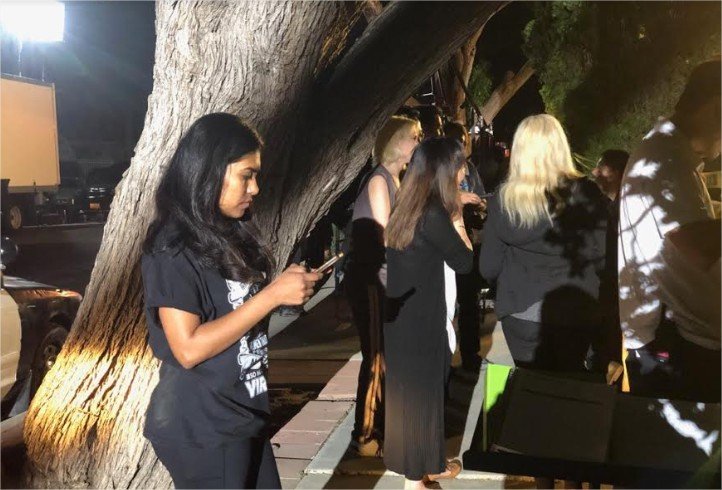 Countless films and TV shows are written, filmed and distributed each year. Over the years, certain film genres have gained popularity, while some have seen a decline. These trends in genres can also influence how many people watch a particular film and as the nature of the industry goes – earnings and profit. Akanksha enjoys working on different genres that get her creative juices flowing.
"The first question people ask you is "What genre do you like?" And my answer is – everything. I don't like to limit myself to a genre," Akanksha says. "A project that has a story to tell which influences people or where the audience can take something away from it. A project that has an impact on the audience. If it's a comedy, it could be just making someone get through a rough day. It's all about the script. If the script is good, I am on board."
In an America slowly accepting diversity and women of colour being offered more work as compared to decades of sexism rampant in the industry, Akanksha is rapidly creating a name for herself.
"Akanksha has the ability to seamlessly transition from television to film as well as comedy to drama. Not a lot of people are able to do that," says Marvin Akanyi, a television and film Producer Akanksha has worked with, and also counts as one of her close friends. "She is very pragmatic and that helps her with dealing with stressful situations on set. In my opinion, that as well as her in-depth knowledge of her craft make her an excellent Producer. I have known and worked with her for quite some time now. She has an extraordinary ability to strike a balance between creativity and logistics, and that really sets her apart." 
Akanksha was one of the Producers on "Resolve", a film about a young woman seeking to avenge her mother's death.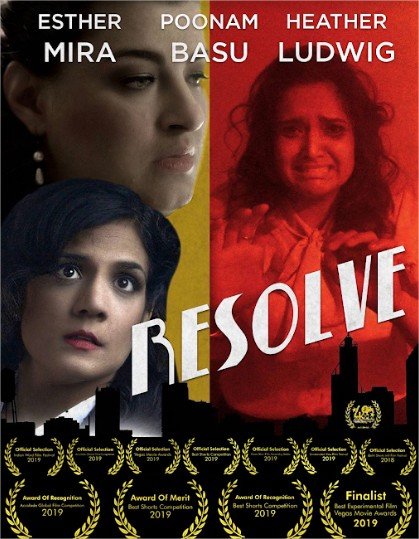 "One of the things I love about this film is the number of women that worked on it. All the lead actors are women as well as the producers that worked on it – which doesn't happen too often. It wasn't something that was planned, so we had this whole "women in film" thing on set, which, maybe was serendipity. I mean who better to produce a film about women than other women? We also had a very diverse cast and crew on this set," she recalls.
"Resolve" is an Official Selection at 15 film festivals around the world, some of which include the 2018 Delhi Shorts International Film Festival, 2019 CineX Independent Film Festival, 2019 Indie Short Fest, 2019 Austin After Dark Film Festival, and 2019 Indian World Film Festival. It is also an Official Selection and semi-finalist at the 2020 Dumbo Film Festival in New York. 
So far, the film has won the Award Of Merit for Women Filmmakers, Ensemble Cast, Original Song, Script/Writer, Lighting and Award Of Recognition for Creativity/Originality at the 2019 Best Shorts Competition; Award Of Recognition for Film Editing at the 2019 Accolade Global Film Competition; and Award of Prestige for Best Experimental Film at the 2019 Vegas Movie Awards. 
The film was also screened at Regal LA Live, a prominent theatre in downtown Los Angeles, Alamo Drafthouse in Austin, Texas, and The Hen and Chickens Theatre in London.
Filmmaking is often perceived as a glamorous career. But reality is far from this impression that most people have. 
"It all seems glamorous, but it's actually a lot of hard work and long, odd hours on set. Sometimes you're working through the night, irrespective of the weather. The glamorous aspect of all this, which is the red carpets and awards and such is something you get to do probably 1% of the time. So if you're not passionate about putting that work in, it can be very hard."
Breaking into the industry is also something a lot of people, including well-known filmmakers, have been very open about. Most actors, writers, directors, and producers have struggled for many years before getting their big break in the industry. The entertainment industry is also infamous for being fiercely competitive.
"I do believe there's a space for everyone. It can be difficult at times, but I try to stay positive and focus on my work. I believe hard work eventually pays off."
With a rise in the number of artists and creators taking on multiple roles, nowadays being a multi-hyphenate is the new normal. Akanksha, too, has plans for expanding beyond producing. "I am working as a Producer right now, but I want to direct and write as well. There are a couple of projects I have filmed in which I'll actually be in front of the camera for the first time, so I am really excited about that. I enjoyed acting and that's also something I would love to explore. I'm inspired by people like Mindy Kaling, Reese Witherspoon, Eva Longoria who wear many hats and are able to do all of it successfully." 
When asked about her plans to work in India, she says, "Definitely. I want to work in both Hollywood and Bollywood. I am trilingual – I speak English, Hindi and Marathi fluently. I hope to create and develop content in all these languages. Now with Netflix, Amazon Prime and similar platforms acquiring international content there are a lot of amazing projects being produced. I love that the internet has made content global and easily accessible."
For more information on Akanksha Prabhune, visit IMDB, Linkedin and Instagram.