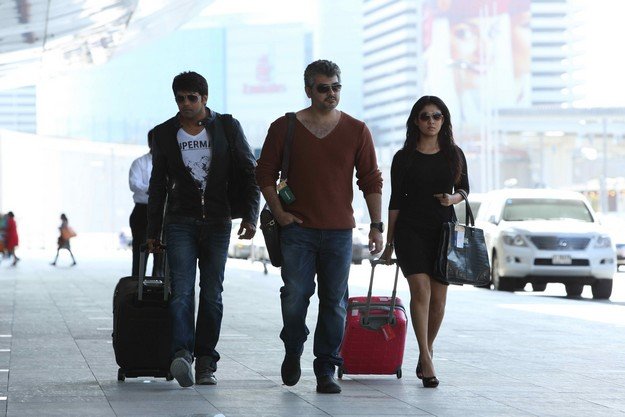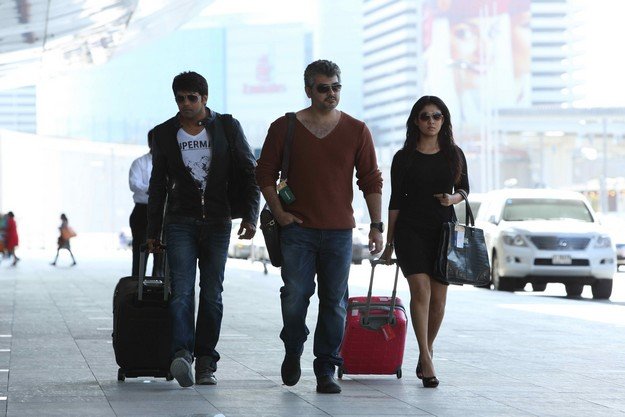 Rating: ★★★★☆
As an audience you can expect Crime, Action, Thriller, Drama, Comedy and Romance in Arrambam.
If you are an Ajith fan or not, you will love his dashing looks, action and stunts in this movie for sure.
DIRECTOR : Vishnu Vardhan
ACTORS: Ajith, Arya, Nayantara, Tapsee, Rana Daggubatti, Kishore, Atul Kulkarni, Mahesh Manjrekar
Run time: 157 mins
Language: Tamil
Plot: The plot centres around Ashok (Ajith), a former bomb disposal specialist with Maharashtra's Anti-Terrorism Squad who is on a (revenge) mission. Ably supported by (Maya) Nayanthara and Arya (Arjun), Ashok plots the downfall of the state home minister (Mahesh Manjrekar), the kingpin behind many nefarious activities and scams plaguing the police force. How they wreak vengeance forms the crux of the story.
The gripping first-half breezes past, but the second half slips into familiar Tamil cinema terrain and is not as racy as one expects it to be. Though there are some boat chases and top action sequences (shot in Dubai), it fails to keep the audience enthused. The build-up to the climax is interesting in parts, but the film ends with a whimper.
Ajith steals the show, but Mahesh Manjrekar is also a stand-out performer. Actors like Kishore and Rana Daggubati excel in their respective roles, while Nayantara comes up with another sterling performance. The scenes featuring Ajith and Rana countering the attacks of the terrorists have been filmed well, but it defies logic when a bomb expert is deployed in such a crucial operation with a single cop for company.
Negative: The only negative you can point out as an fully involved audience is the story between Arya and Nayanthara in their college life which has an unjustified over make over which is not very relevant for the story. This could have been portraid much better than executed in the movie.
Yuvan Shankar Raja's music has too been a big let-down.
Verdict: You will walk out of theater with no regrets of spending money or 157 mins watching Arrambam