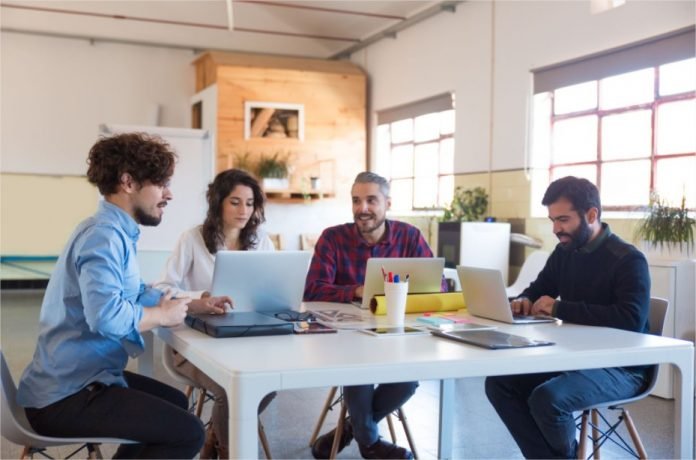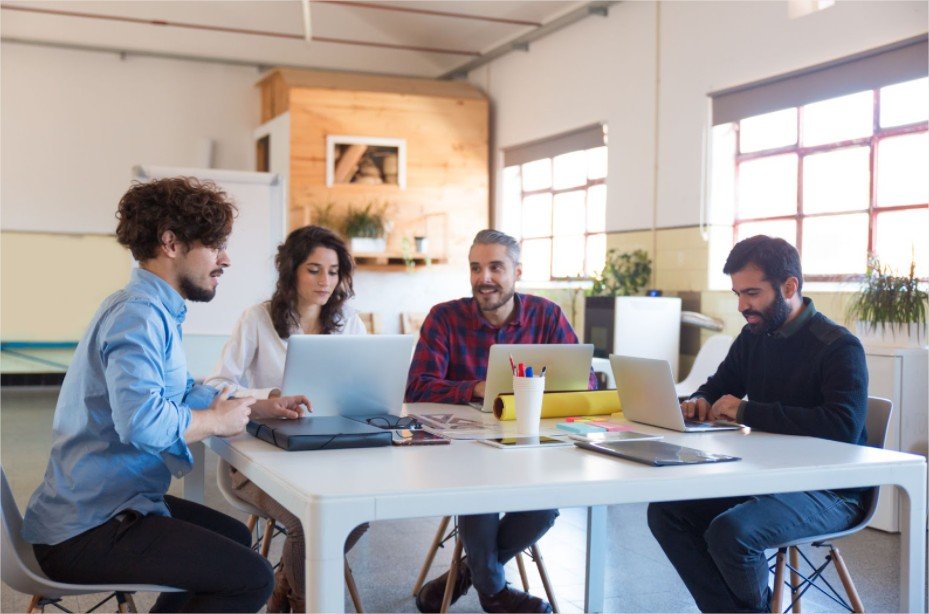 The culture and trend of coworking have gained a lot of popularity in the corporate world since the outbreak of the global pandemic, COVID-19. Working professionals found refuge in various co-working establishments as businesses continued to flourish within the confines of these office spaces. Operating from remote locations, therefore, became a growing trend as corporate agencies began to identify multiple benefits of this work module.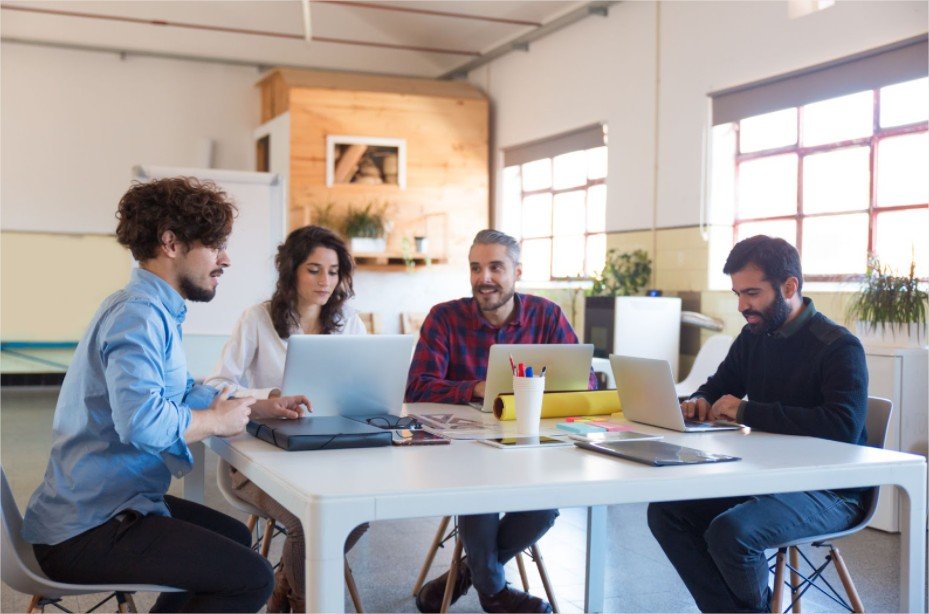 Coworking spaces are fully functional and equipped office areas that can be booked by corporate agencies, entrepreneurs, start-up firms, as well as freelancers on a daily, weekly, monthly, or annual basis. The coworking spaces offer a wide range of amenities in the form of high-speed internet, power back-up, meeting rooms, dedicated desks, personal cabins, and locations, etc. that are equipped with all the necessary tools that a working professional requires to fulfill their corporate goals and responsibilities.
Coworking spaces act as a common ground where business professionals from different backgrounds and industries come together to initiate their daily work. There are various benefits that can be experienced by working professionals while functioning from such coworking spaces. The level of convenience and flexibility of work has significantly improved with the introduction of this trend. Not to forget, that corporate firms and start-ups can also save a considerable amount in terms of finances while availing the services of premium coworking spaces.
Due to the presence of these factors, the consequent demand for coworking spaces has increased in the long run. Due to the facilities it provides, the demand for coworking spaces has increased immensely in major IT hubs of India like Bangalore, Mumbai, Chennai, and Hyderabad. Among these coworking spaces in Hyderabad has seen a sudden surge in the demand for coworking spaces and rental office spaces in Hyderabad.
Following are some of the foremost reasons which every working professional must take into consideration if they are presently working from home or are caught up in the old school practice of traditional office spaces.
1. Operating from coworking spaces increases team cohesiveness
People working from remote locations primarily opt to work from home. This automatically means that the individual does not have a physical team to work with. Thus, the overall efficiency of the concerned individual might not reach optimum levels without being exposed to frequent supervision.
Working with a physical team can help you to complete your daily objectives more effectively allowing you to save a considerable amount of time. Doubts can be addressed more easily as solutions from colleagues can help you to go a long way and gain a broader perspective on the issues at hand.
These issues can be mitigated while operating from coworking establishments. You can share your ideas and experiences with your colleagues as well as monitor the activities of the people around you. Therefore, coworking spaces help to improve and increase team cohesiveness.
2. Increased Focus
As mentioned earlier, working from home can be very demoralizing and demotivating for working professionals. The lack of a professional ambiance can make even the most dedicated individuals sluggish and slow. Thus, people lose focus from the objectives and goals which eats up more of their time. We all know the feeling of working from an Indian household as there are numerous distractions that contribute to disrupting our focus.
Eliminate all these issues by booking a dedicated desk at a coworking space. The ambiance of these coworking establishments is fantastic for corporate professionals as you will be constantly motivated to complete your daily objectives without worrying about losing your focus on the specific task at hand.
3. Work From Home acts as a Barrier to Implement Remote Work Policies
The concern related to the "Long-Standing Company Policy" must be taken into consideration by every working professional while opting to choose to work from remote locations. Other essential elements such as data security, the equipment, and technology in place, and flexibility of operation are compromised while working from home. Therefore, the best possible solution to this issue is in fact coworking spaces.
4. Upholding the Company Culture
Many business organizations understand the limitations that come from remote working, especially when it comes to working from home. Business firms realize that employee efficiency, work productivity, and effective communication cannot be ideally maintained while an employee is forced to work from home. The best possible solution is to collaborate with premium coworking spaces that are scattered in every corner of the city to maintain the work culture that a corporate agency wishes to uphold.
Corporate agencies, therefore, can book coworking spaces that are near the residential areas of the majority of the employees. This helps the company to maintain the necessary work culture and also solve the issue related to employee efficiency, focus, and overall monitoring.
5. Maintaining a Sense of Community
Operating from coworking spaces helps to maintain a sense of community within the employees of a business organization. People can communicate and share their experiences and ideas in an effective way which allows an individual to develop skills and grow in the long run.
6. Work Flexibility
The ambiance and amenities offered in coworking spaces allow working professionals to work in a more free and flexible environment. Most of the coworking spaces are open on a 24/7 basis. Therefore, employees can work without having to worry about rigid office timings. If a specific project requires more of your time then individuals can easily extend their work hours without any hesitation.
It is also a great option for entrepreneurs as the option of a daily subscription is also made accessible. Therefore, as an entrepreneur, if you have a lean day then there is no compulsion to pay for your seat on that given day. Such is the level of flexibility working professionals are exposed to while working from coworking spaces.
7. Reduction in the level of Work Stress and Increase in Creativity
Working from home can prove to be mentally exhausting as you constantly need to balance both personal and professional responsibilities. Operating from a coworking space allows you to focus on a particular task which in turn, reduces your overall work stress levels.
Moreover, employees have a great atmosphere to express their creative ideas and thoughts as they are surrounded by professionals that originate from diverse industries and backgrounds. Seeking influences from these individuals will allow you to grow and help you to view work-related responsibilities from a different perspective.
8. Enhance your Networking Skills
Networking is a key aspect for every working professional as it helps you to learn and gather more information about various market segments by interacting and connecting with different people. Coworking spaces can be considered to be a premium platform where an individual can enhance their networking skills. The connections you make will certainly help you and your business in the long run.
9. Motivated Professionals
Being surrounded by driven working professionals will reflect well on your overall work attitude. Restricting yourself to your room will adversely impact your confidence and will be detrimental to your motivation levels. Operating from coworking spaces will expose you to focused individuals who are great at achieving their goals. This factor will keep you motivated as you constantly absorb the culture that surrounds you. A win-win situation for everyone.
Final Overview
These are some of the foremost reasons why you should look to work from coworking spaces. There are minimal risks involved as the amenities of coworking spaces can be availed at affordable prices. The advantages of operating from a coworking establishment are plenty and can be adopted by start-ups as well as businesses organizations alike.
Freelancers and independent entrepreneurs can also benefit from these coworking office setups as it helps them to interact with different people and helps them enhance their overall business reach. These are the primary factors that have contributed to the overall increase in the demand for coworking spaces.