The Much awaited thalaiva movie created a high expectation to the audience before release. Did it keep up with it's expection? Let's Find out.
CAST AND CREW
Production: Chandra Prakash Jain, CP Dinesh, CP Sunil
Cast: Abhimanyu Singh, Amala Paul, Rajiv Pillai, Santhanam, Sathyaraj, Vijay
Direction: AL Vijay
Screenplay: AL Vijay
Story: AL Vijay
Background score: GV Prakash Kumar
Cinematography: Nirav Shah
To watch Trailer Click Here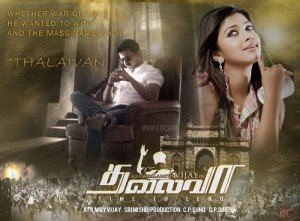 In the much-anticipated wait for Thalaiva, director  Vijay remarked that he felt masses might begin referring to 'Ilayathalapathy' Vijay as "Thalaiva" Vijay instead of his long held moniker. Upon watching the film this perspective is not hard to understand as his latest, reveals a Vijay different from what we've ever seen before. Helmed as a more serious action flick, reminiscent of Godfather tones in its trailers, Thalaiva took on the bold task of marrying commercial action with a grittier look at how those without means seek justice for a myriad of social issues. Was the combo of Vijay & Vijay successful in delivering a balance of mass and meaning?
The film begins in beautifully picturized locales of Sydney, Australia where we meet typically talented and charming lover-boy Vishwa, played by Vijay, who along with a gaggle of dancers run a successful business while also pursuing fame in major dance competitions. The premise is the perfect excuse for Vijay to steal the scene with his youthful moves, and fulfill the comedy track of the film in combination with the always-entertaining Santhanam. A cute but at times silly & slow love story ensues between Vishwa and lead female character Meera, played by Amala Paul in her first pairing opposite Vijay. We learn early on of Vishwa's close relationship with his father who resides in Mumbai, played by Sathyaraj who is depicted in an elusive but clearly powerful role, and through a plausible cause & effect the film shifts to India where the real story takes place. What follows is a portrayal of don-leadership for the good of the less fortunate, mixed in with familial politics and your typical revenge & good versus evil scenarios, but told in a stylized manner.
The first half is packed with some good fun. Santhanam's comedy and the eye-capturing cinematography in Australia, laced with the chemistry between Vijay and Amala Paul, especially in one of the dance sequences, is something to watch out for. This is followed by a slow and stretched second half, which portrays Vijay in his 'mass avatar' written almost on every frame.
The film's biggest letdown is its dragged narration that never wants to end. And when it is finally about reach its end, we are tortured with an additional song. If only director Vijay had trimmed the film by a good half hour, Thalaivaa wouldn't have earned the wrath of the audiences as well critics.
Nirav Shah's cinematography is top-notch as he successfully translates the beauty of Australia on the big screen, while capturing the frenzied atmosphere of Mumbai to perfection. G V Prakash's work only gets notice in the background score as the songs only end up breaking the flow of the narrative.
A L Vijay has completely gone haywire since Madraspattinam, which still remains a path-breaking film in his career. In his effort to make films with superstars such as Vikram and Vijay, he only ends up churning half-baked products.
Verdict: Vijay fan's will not be too disappointed, movie is not a mass and do not watch this movie with high expectations.
 (2.5 stars / 5 stars )