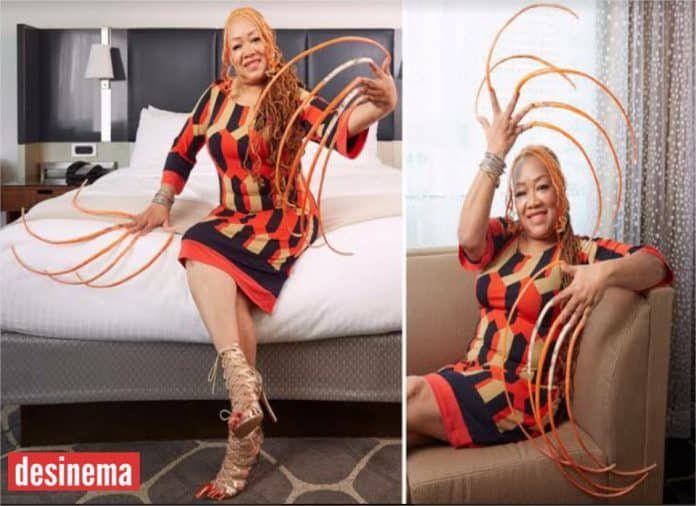 Ayanna was first officially recognized for her tremendous talons in 2017 and was one of the record-breaking stars to feature in Guinness World Records 2018
Guinness World Records title holder Ayanna Williams (USA) has officially parted with her grand manicure after cutting her nails this past weekend after 30 years, according to Guinness World Records.com.
Ayanna Williams of Texas first held the record in 2017, when her fingernails were measured at a total 226.9 inches, and they were measured again before being cut and the new record stands at 288.8 inches.
"Guinness World Records and Ripley's Believe It or Not! Are really on it. I'd rather for them to have them than anyone else. And one thing, it's history for my kids and my grandkids. It's very exciting."
"I have this thing that I do with children when they come up to me and they say 'are those your nails?!' and I say 'yeah' and then I ask and I say 'How old are you?' and they say 'I'm ten or I'm seven', and I say 'Guess how old my nails are? They're like 28 – 29 years! They're older than you!'" mentioned Ayanna.
Now the fingernails will now be preserved and on display at the Ripley's Believe It or Not! Museum in Orlando, Florida.
Although Ayanna's most recent measurement broke her former record, the record for the longest fingernails on a pair of hands ever (female) still stands with Lee Redmond (USA), who started to grow them in 1979 and carefully manicured them to reach a total length of 8.65 m (28 ft 4.5 in).
However, regardless of her record title, they will always be one of her favorite accessories.
"With or without my nails, I will still be the queen. My nails don't make me, I make my nails!"