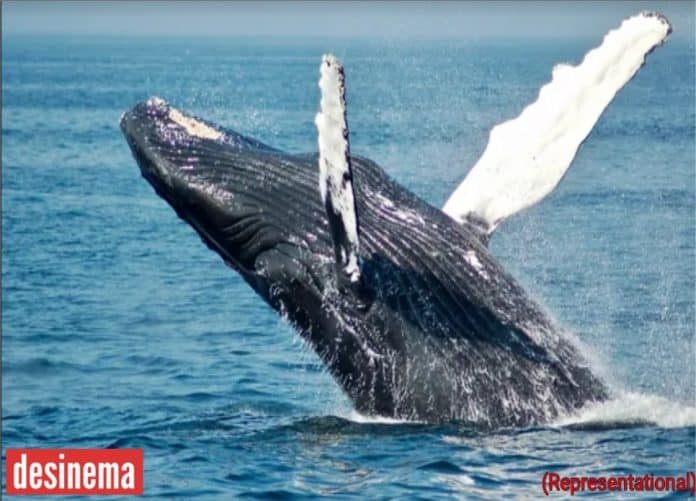 A US lobster fisherman has lived to tell the tale after he claimed he was swallowed by a humpback whale and spat out in less than a minute. Michael Packard told a local paper that he was diving for lobster off the coast of the northeastern state of Massachusetts when the humpback whale trapped him in its mouth before coughing him back up.
Michael Packard, 56, of Wellfleet, told WBZ-TV after he was released from Cape Cod Hospital that he was about 45 feet (14 meters) deep in the waters off Provincetown when "all of a sudden I felt this huge bump, and everything went dark."
He thought he had been attacked by a shark, common in area waters, but then realized he could not feel any teeth and he wasn't in any pain.
"Then I realised, oh my God, I'm in a whale's mouth … and he's trying to swallow me," he said. "And I thought to myself OK, this is it — I'm finally — I'm gonna die." His thoughts went to his wife and children.
He estimates he was in the whale's mouth for about 30 seconds, but continued to breathe because he still had his breathing apparatus in.
Then the whale surfaced, shook its head, and spit him out. He was rescued by his crewmate in the surface boat.His sister, Cynthia Packard, originally told the Cape Cod Times that her brother broke a leg, but he said later that his legs are just bruised.
Charles "Stormy" Mayo, a senior scientist and whale expert at the Center for Coastal Studies in Provincetown, told the newspaper that such human-whale encounters are rare.Humpbacks are not aggressive and Mayo thinks it was an accidental encounter while the whale was feeding on fish, likely sand lance.
Jooke Robbins, director of humpback whale studies at the Center for Coastal Studies in Provincetown, Massachusetts, said she had never heard of an "accident" of this type, but "it may be that he (Packard) was just in the wrong place at the wrong time."
"When they (whales) fish… they rush forward, open their mouths and engulf the fish and the water very quickly," she said, adding they have large mouths, but throats so narrow they wouldn't be able to swallow a human.
The whale, which according to Mayo's description was on the young side, "may not be able to detect quickly enough that something is in the way."
Even if all the details weren't yet known, one thing was clear for Robbins: "It is important for people to be quite aware. And when they see a whale, keep a good distance. It's really important to give whales their space."