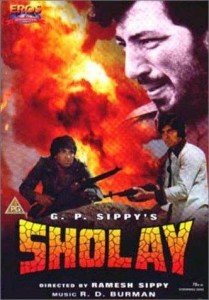 Sholay in 3D
Sholay's' four songs to be remixed as one, for its 3D version
The re-release of the super-hit and iconic movie, 'Sholay' in its 3D format, will benefit, both, the young generation, who must have missed seeing the movie, during its release, 40 years back, as well as the older generations', who will once again get a chance to see the movie, albeit in a different and new avatar.
In spite of the ongoing dispute between, Ramesh Sippy, original director of 'Sholay' and its new producers, PEN Entertainment and its head honcho, Jayantilal Gada, there have been a few changes made in the new version of the movie, in order to suit the tastes of the current lot of youngsters and make it more appealing for them. Apart from the 3D format, the other changes likely to be seen in the new version, will be, a mash up of the four songs, which were a part of the original version.
Although earlier there were plans of getting the songs remixed. But the idea was soon dropped as many felt that the feel and the effect of the songs like 'Mehbooba Mehbooba' will get affected and are likely to lose their original charm. The above mentioned song, enacted by Jalal Agha and the dancing queen, Helen, was a huge hit, at the time of its release. The 3D version of 'Sholay' releases on 3rd January, 2014. However director Ramesh Sippy has not consented to the change in the movie's format.