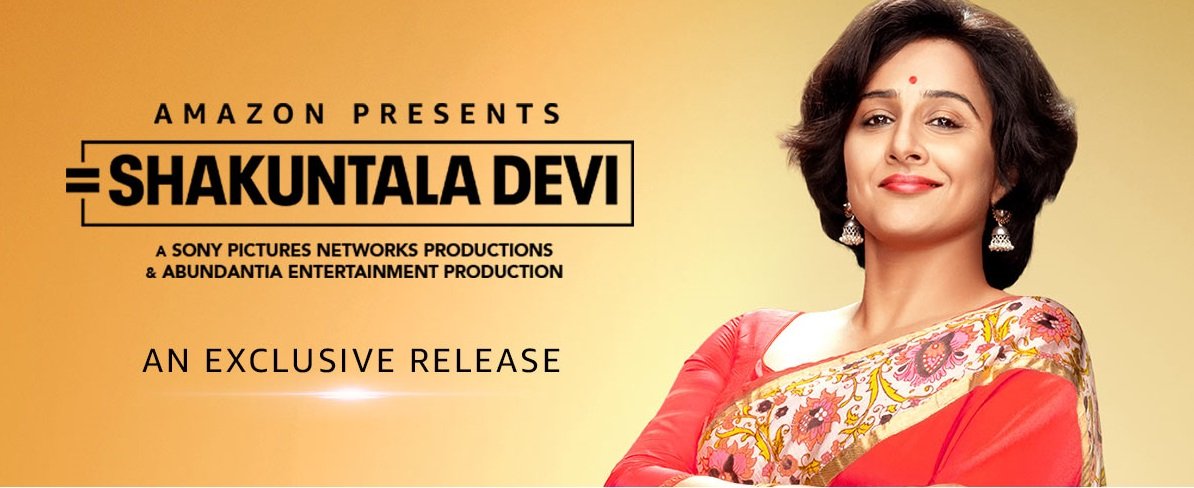 Shakuntala Devi movie cast: Vidya Balan, Jisshu Sengupta, Sanya Malhotra, Amit Sadh
Shakuntala Devi movie director: Anu Menon
Stream – Amazon Prime Video
The film shifts to Shakuntala Devi's childhood in Bangalore in the 1930s, where her family discovers her incredible talent for quickly solving complex mathematical problems in her head. Her father, Bishaw (Prakash Belawadi), decides to use Shakuntala's talent and have her do "math shows," where she would entertain people with her problem-solving prowess. Shakuntala continues to do math shows and earn for the family as she grows up but blames her father for not letting her live a normal childhood. She also blames her mother for not standing up to him, especially in the wake of her sister's death. In 1954, she leaves for London after a violent altercation with her boyfriend, Dhiraj (Neil Bhoopalam).
In London, Shakuntala lives with Tarabai (Sheeba Chaddha) but struggles to find opportunities for her shows. But, she eventually manages to impress Javier (Luca Calvani), a Spanish mathematician. He helps improve Shakuntala's English and helps her get shows, and the pair begin a relationship as well. Shakuntala's popularity rapidly grows, and is given the nickname "The Human-Computer." She expands her global influence by performing in other countries and becomes a worldwide celebrity. Amidst all of this, Javier ends his relationship with Shakuntala.
Anu Menon's film on the life and times of Shakuntala Devi starts with this disclaimer: 'This film is inspired by true events but does not claim to be a documentary/biography of any character depicted in the film'. Par for the course for biographical sketches in Bollywood, but ironic in a film whose story was detailed with the help of the maths genius' real-life daughter, Anupama Banerji. So do we believe everything we see, or dismiss certain events as 'creative liberty'?
It's a point worth considering because Shakuntala Devi, as played by Vidya Balan with supreme confidence and conviction, turns out to be the kind of strong, independent woman that Bollywood usually keeps away from. As a little girl who could compute in a flash the cube root of a complicated number, and a maths prodigy who was deprived of a 'normal' childhood by a father who dragged her from one show to another, she was very clear that she would be a 'bada aadmi, not a badi aurat', not a desire commonly expressed by little girls in the 1930s.
That Shakuntala was never going to toe any line or be any kind of 'normal' woman, is the line the movie takes and does well by. Especially when we see her, as a young woman, creating a life of her own in England, where she fetches up not knowing anyone, speaking the language in a brown accent, wearing her colourful saris and pigtails proudly. She does come close to a man. But very soon we realise Shakuntala Devi doesn't need male help to prop her up. She is happiest on her own, laying out her astonishing prowess with numbers, wowing awe-struck audiences around the world. Being her own person.
We see her conjuring up these complicated answers, with nearly too many digits to count, and we are as delighted as she is. Am I correct, asks Balan. Of course, she is. And we beam, as much as she does. And then she finds a partner (Sengupta) and becomes a mother, and the film tilts over into becoming a drama about a reluctant mother and an unhappy daughter (Malhotra). Shakuntala Devi the perfect number cruncher giving way to Shakuntala Devi the imperfect mother is the conflict the film chooses and spends most time resolving. Could it be because numbers are frightening and alienating, and mum-and-daughters are comforting and relatable?
This innate traditionalism leads to the superficial treatment of the protagonist in the second half and, in the first half, of her relationship and break-up with the man who trained her for the stage in her early days in Europe. It also possibly explains the film's strange approach to her stand on homosexuality.
Shakuntala Devi Movie Review (Continued):
Shakuntala Devi's visuals are determinedly bright and cheery despite its difficult subject. The director injects that same cheer into the narrative with an intentionally farcical, comical tone while showing the heroine in her uncharacteristic, house-bound avatar at one point, thus effectively undermining the ridiculousness of tying a person down to play roles they are not made for. (That farcical tone seems stretched elsewhere when Shakuntala and her husband are trying to impress a couple of strangers with how "normal" they are.)
IMDB Shakunta Devi Review:
Check the IMDB Rating Here. Almost 6030 reviews have been provided in IMDB. The current ranking as of 2020 August 23 is 6.2/10.
Google Review Shakunta Devi:
There is a review by Hardik Prajapat. In his words "The Perfect weekend watch movie! This Family Light Comic Biopic Certainly takes You into the world of the super genius and the super Intellectual Shakuntala Devi in the most entertaining way and with her way of dealing her life in an enthusiastically stressfree manner , yet this movie indirectly has a lot more to offer its audience ; In terms of The Sacrifices The Mothers make, and just in case some of them let their dreams fulfilled , they are so easily reprimanded of their title of Motherhood !
This movie very beautifully answers this dilemma with the climax !
Also the Comic timing , the humor , the jolly light moments leave us with more cravings for her!
And esp., the relationship between Mothers and Daughters is so beautifully showcased , that you just can't miss out on this flick !
Thank you to the content makers for bringing into light to this generation the HUMAN COMPUTER, the pride of India in Mathematics , SHAKUNTALA DEVI !!!
I BET noone would have played her Better than the gorgeously charming and versatile Vidya Balan!
OVERALL A FULL FLEDGED BLOCKBUSTER YOU SHOULDN'T MISS AT ALL! :)".
Sukanta Bhattacharjee found her review as "The movie Shakuntala Devi is based on the biography of world-famous mathematician Shakuntala Debi but it may not be the complete true fact which has been shown in the movie. Those who love math and numbers might not love this movie because it did not show any new formula to solve any complicated problem also who does not like math and just for that reason if they avoid this movie then definitely it will be a miss for them.
The movie has three parts, in the 1st part, we can see the childhood life of Shakuntala Debi where she faces a lot of challenges due to their poverty but came up with her unique identity as a mathematician and very shortly she became famous and started stage show to earn the money by giving up her regular education.
In the 2nd part of the movie can be described as a journey of Shakuntala Devi from unsung to the world-famous mathematician in England. She tried to prove herself in various forums, gathering and stage show and slowly and steadily, and finally, she got her desired success and popularity.
The story might take another part through her math skill but it took a turn with a different storyline where we can see her loves, marriage and daughter Anupama and film take a u-turn with her aggressive and feminist attitudes towards her husband and daughter and finally she came back to England with her daughter by giving divorce to her husband.
Shakuntala Debi took her daughter to England and started her second innings and regained her popularity and become the rich woman, but this time her daughter Anupama feels alone and goes against her mother.
the third part of the movie goes with this turmoil relationship between daughter and mother which finally reaches the court where both of them face each other and the movie goes to its climax.
Vidya Balan as Shakuntala Debi is exemplary and she portraits her role very beautifully in three different parts, parallelly Saniya Malhotra as Anupama is a complete fit for her role and in some scene both of them really touches our heart. Jisu as Anupama's father did not have that much to do in this movie but his less presence also shows that he is a brilliant actor.
Finally, feminism and money cannot lead the normal life maybe this movie can be an example of that.
Good to watch for the storyline, acting and to discover our human-computer".
You can watch Shakuntala Devi in Amazon Prime with "30 days free trial" or by purchasing it at 129 rs/month.