[rate]
Your Rating ?
Cast : Vijay Sethupathi, Inigo Prabhakaran, Gayathri, Aishwarya Rajesh, Soori…
Music:-D.Iman;
Cinematography0 C.Premkumar;
Written and Directed by K.Balakrishnan
Watch Trailer : Click Here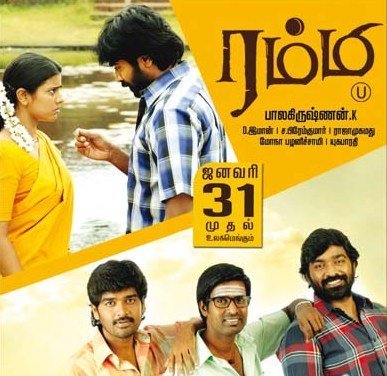 Storyline
Sakthi (Inigo Prabhakaran), Joseph (Vijay Sethupathi) and Arunachalam (Soori) are college mates ,from different suburbs of Madurai. Sakthi falls for his class mate Meenakshi (Gayathri) at first sight. Joseph falls for Sorna (Aishwarya Rajesh).
Problem erupts in the form Oor Periyavar (Head of the Village), the father of Sorna who is dead against Having noticed Meenakshi, his younger brother's daughter and Sakthi walking together, Periyavar keeps waiting for an opportunity to take the life of the young man. In the meanwhile Sorna elopes with Joseph.
Periyavar 's thugs with sickle catch the eloped couple and the other couple also find themselves slipped in to Periyavar's death trap. Whether Periyavar succeed in his ambitions or the couples manage to escape forms the rest.
Script Analysis
Debutant director K.Balakrishnan has taken the less talked about issue of honor killings that still exists in most parts of the country even at this modern age. It should be said that he has succeeds to a large extent in subtly portraying a serious issue to make a strong impact, with dialogues playing a vital role.
The necessity of story being set in 1980s is questionable because caste hatred which is the main conflict of the script is still relevant and the elements such as a village bound by traditional values, caste hatred, love being prohibited in order to safeguard the caste system etc are still prevalent. However the feel of the period has been aptly invoked with elements such as yesteryear glam girl Silk Smitha, Rajnikant film with Amala running in theatres, Telephones without dial buttons etc.
The Romance part which takes a predominant portion of the narration lack a refreshing treatment that is essential for making it appeal to the audience.
The film is highly predictable at least until the portion that leads to the climax. The director's deliberate efforts to equate the screen presence of both the lead actors by including equal number of romantic scenes and songs gives the feel of repetitiveness.
The climax is strong and the shocking act of a particular character in it has been portrayed convincingly.
Performances
Inigo Prabhakaran is donning the lead role for the first time and he fits the bill for romance and stunt sequences leaving much to be desired in emotional sequences.
Vijay Sethupathi's role is limited to that of a second hero and his role in the film, does not offer any scope for his trademark antics and emotions. Nevertheless the man who has proved to be the one submitting to the need of the script does justice to the role offered to him.
Both Aishwarya and Gayathri suit well as rural girls and are right with their emotions. The former has a relatively stronger role and she has done it appreciably.
Soori's one-liners and modulation raise laughter here and there.
Iman's songs are nice to listen and re-recording plays a significant role in raising the impact. Premkumar;s Cinematography has successfully captured some beautiful locales in southern parts of tamilnadu. Art Director Veeramani needs to be appreciated for selecting caves and hills for romantic sequences.
Plus
Relevant Subject
Dialogues
Performances
Minus
Predictability
Placement of Songs
Slow pace
Verdict
K. Balakrishnan has debuted with a product that is strong in content but week in narration.
Rummy: Predictable yet engaging drama on contemporary life