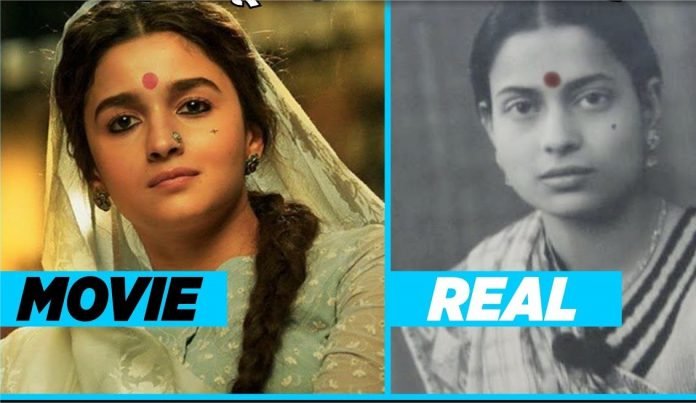 The gangster movie genre is nothing new. Since the beginning of movies, violence and murders have been common themes in films. It became more interesting when real-life shootouts and mob culture inspired the silver screen. The viewers want to know what led to the crimes and what was happening in the criminal's mind right before committing the horrendous acts. If you think crime and violence do not make good movies, think again. If you are new to this genre and want to explore the best, look no further, you are in the right place. Here is a list of gangster movies inspired by real-life gangsters
1) Real to Reel: Vito Corleone (played by Marlon Brando) was based on New York Mafia figures Joe Profaci, Frank Costello, and Carlo Gambino.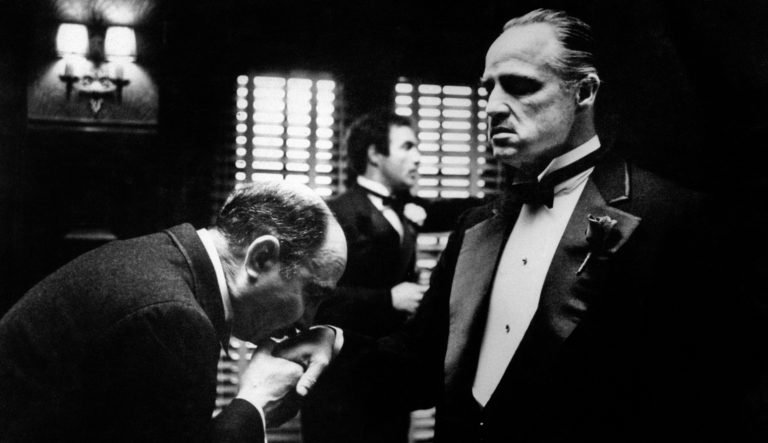 The Godfather (1972) (IMDB: 9.2) (Director: Francis Ford Coppola): You cannot talk about gangster movies without mentioning The Godfather. The Godfather franchise is the OG of gangster movies. Every movie buff knows the value of this movie franchise that reshaped the Genre. The character of Don Vito Corleone was inspired by real-life mobsters, among whom Joe Profaci has a profound role to play. The movie cast includes iconic Hollywood stars like Marlon Brando, Al Pacino, Robert De Niro, Diane Keaton and more. The movie celebrates its 50th anniversary this year. So, if you haven't watched this classic, this is the perfect time to join the club. Also, check out The Godfather II (1974) and The Godfather III (1990).
2) Real to Reel: Tony Montana (played by Al Pacino) was based on real-life Gangster Mafioso Al Capone, one of the most notorious crime lords in mob history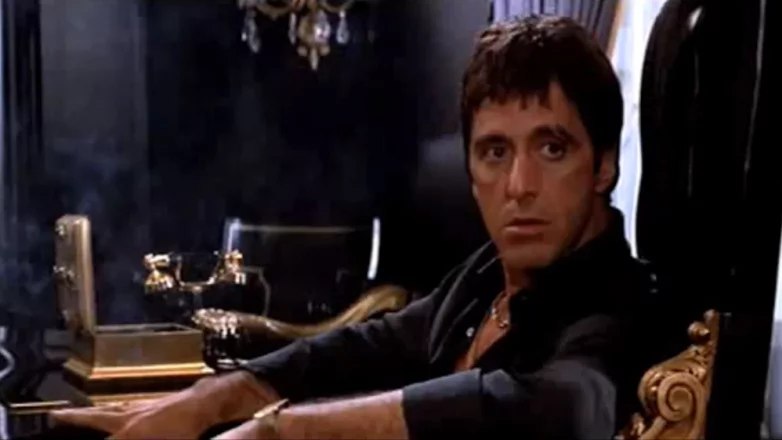 Scarface (1983) (IMDB: 8.3) (Director: Brian De Palma): Tony Montana is a drug lord who controlled almost all cocaine that came through Miami. The portrayal of Tony Montana inspired Sanjay Dutt to enact his gangster role in Vasstav (1999).
3) Real to Reel: Velu Naicker (played by Kamal Hassan) was based on the life of Don Varadarajan Mudalier, also known as Vardhabhai and Vardha, who used to rule the Bombay crime scene.
Nayakan (1987) (IMDB: 8.6) (Director: Mani Ratnam): Nayakan, a Tamil film, is often considered Mani Ratnam's most outstanding work to date. The movie is also compared to The Godfather for its portrayal of the raw and unedited life of the Bombay Gangsters. Originally from Tamil Nadu, Varadarajan came to Bombay and formed his mafia gang. The success of Nayakan gave birth to many crime movies in Bollywood in the following years. Amitabh Bacchan said that he molded his mannerisms to be more like Don Varadarajan Mudalier for his role in Agneepath (1990). 
4) Real to Reel: Bandit Queen is based on Phoolan Devi (played by Seema Biswas), a real-life gangster and female rights activist.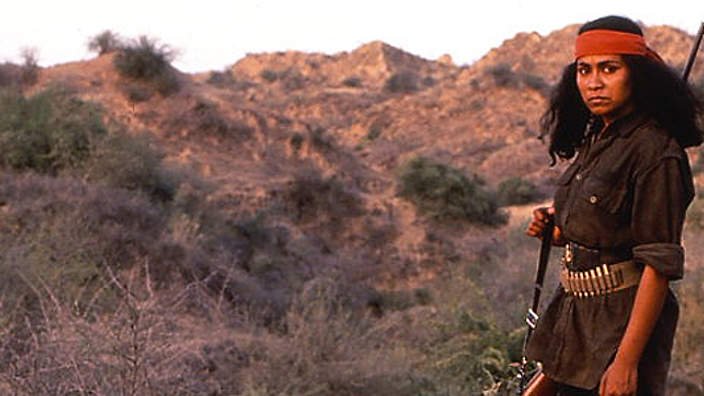 Bandit Queen (1994) (IMDB: 8.6) (Director: Shekhar Kapur): Are you tired of watching all those male-dominated mafia movies and are wondering where are the badass women at? Well! Worry no more. Bandit Queen will satiate your cravings for strong female protagonists in a gangster movie. Phoolan Devi went on to become a politician and a member of the parliament.
5) Real to Reel: Dawood Ibrahim and his D-Company inspired the movie Satya.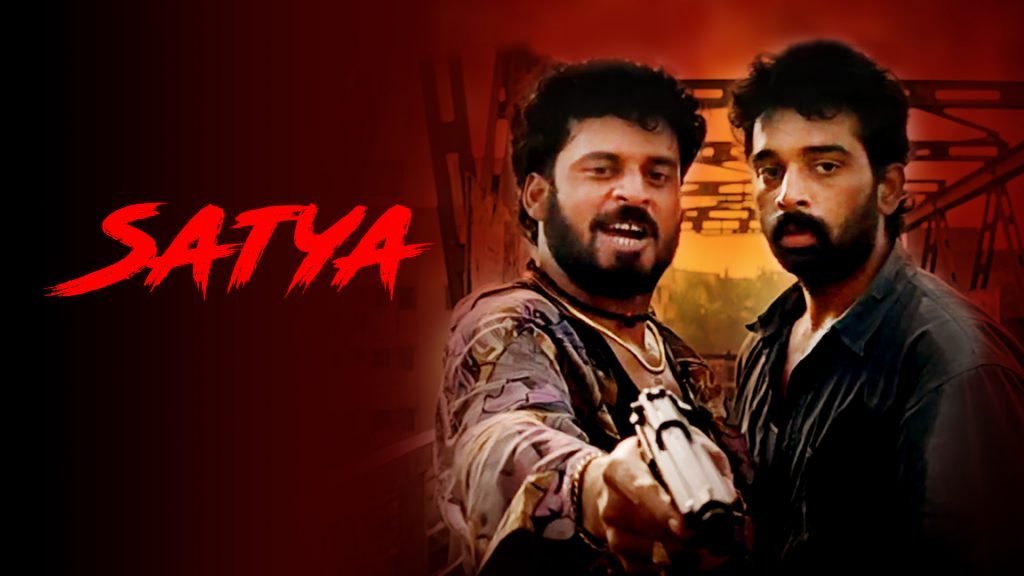 Satya (1998) (IMDB: 8.3) (Director: Ram Gopal Varma): This film is the first rendition of a gangster trilogy that includes two other films: Company (2002) and D (2005) and a sequel, Satya 2 (2013). You can definitely watch the first two films even if you do not watch the whole franchise. Satya is loosely based on the mafia organization D-company, founded and controlled by Indian mafia boss and drug dealer Dawood Ibrahim. In contrast, Company focuses on the rift between dons Dawood Ibrahim and his protege Chhota Rajan. The character Srinivasan, played by Mohanlal, was based on the police commissioner of Bombay, Dhanushkodi Sivanandan. The iconic cast includes Manoj Bajpayee, J. D. Chakravarthy, Shefali Shah and more.
6) Real to Reel: Daya Shankar (played by Shiney Ahuja) was based on the life of gangster Abu Salem. The movie focuses on his affair with Bollywood actress Monica Bedi (Bar dancer Simran played by Kangana Ranaut).
Gangster: A Love Story (2006) (IMDB: 7.2) (Director: Anurag Basu) A movie that has gangster in the name has to have some good mob scenes, right? Absolutely! It is the debut film of Kangana Ranaut, who received numerous awards, including a Best Female Debut Filmfare award for her role as Simran.
7) Real to Reel: Vivek Oberoi played the role of Maya Dolas, originally known as Mahindra Dolas, an Indian underworld gangster who worked for the D-Company.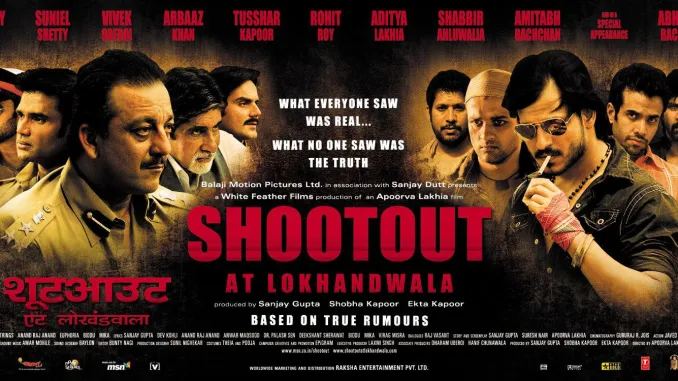 Shootout at Lokhandwala (2007) (IMDB: 7.1) (Director: Apoorva Lakhia): The movie is based on the 1991 Lokhandwala Complex shootout. It was a gun battle between gangsters and the Bombay Police that inspired the plot of this film. The talented cast includes Amitabh Bachchan, Vivek Oberoi, Sanjay Dutt, Tusshar Kapoor, Sunil Shetty, Arbaaz Khan, Amrita Singh and Dia Mirza, among others.
8) Real to Reel: Sardar Khan (Played by Manoj Bajpai) was based on the life of Faheem Khan, a criminal from Wasseypur in Dhanbad. 
Gangs Of Wasseypur (2012) (IMDB: 8.2) (Director: Anurag Kashyap): The movie, a big hit with the critics, was initially a flop at the box office. The film was banned in Kuwait and Qatar for its violent depiction of underworld crime. If you like the first part, you can also check out the Gangs of Wasseypur (Part two), which was released later the same year. 
9) Real to Reel: Arjun Rampal's character is based on Arun Gawli, a gangster turned politician.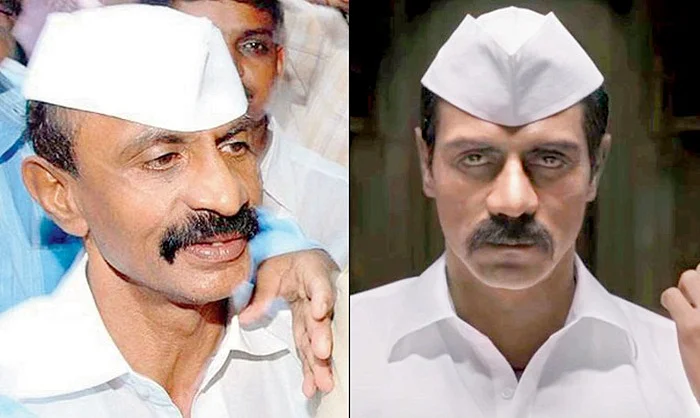 Daddy (2017) (IMDB: 6.4) (Director: Ashim Ahluwalia): If you crave a true Crime Drama movie, give Daddy a try. Arjun Rampal is at his best at portraying gangster-turned-politician urf Arun Gawli. The movie does a fine job of showcasing the colors of the Mumbai Underworld.
10) Real to Reel: Robert De Niro plays Frank Sheeran a.k.a The Irishman.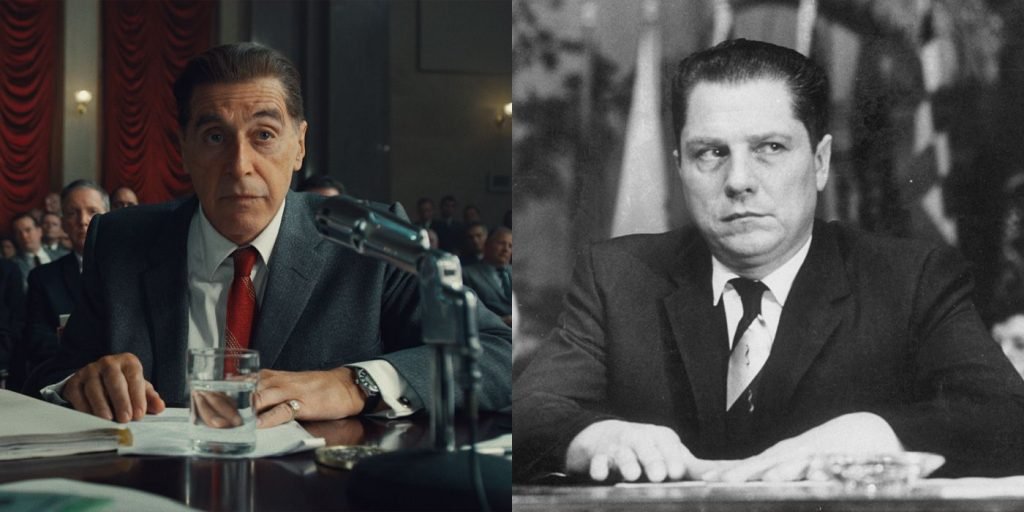 The Irishman (2019) (IMDB: 7.8) (Director: Martin Scorsese): Adapted from I heard You Paint Houses by Charles Brandt, this film focuses on the life of Francis Joseph Sheeran, also known as "The Irishman." If you like this movie, check out some of the classic works of Scorsese, such as GoodFellas (1990) and Casino (1995). 
11) Real to Reel: Alia Bhatt's Character in the film is based on the true story of Gangubai Harjivandas, a Mafia Queen of Mumbai.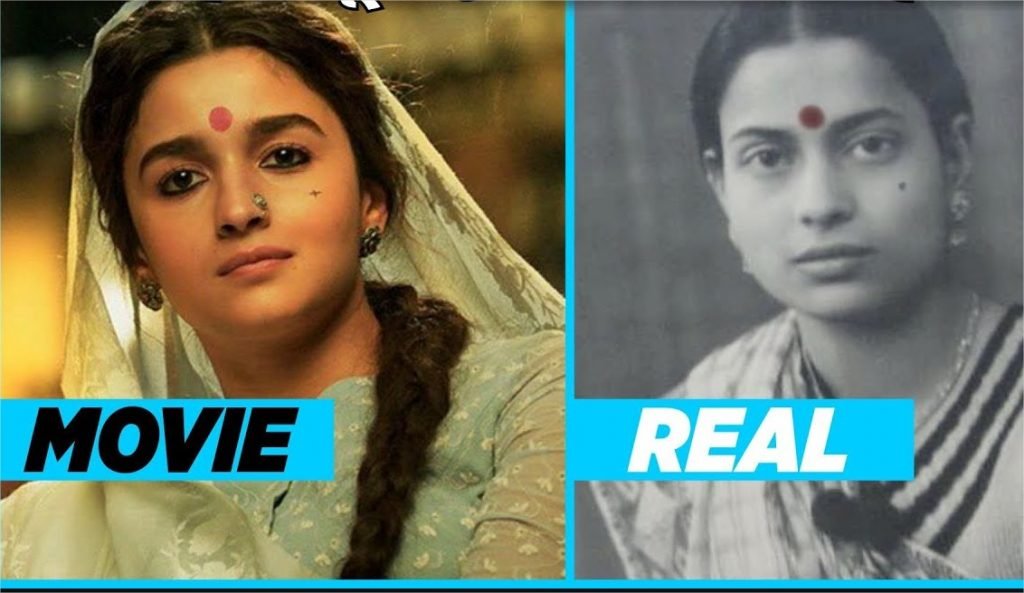 Gangubai Kathiawadi (2022) (IMDB: 7.2) (Director: Sanjay Leela Bhansali): The latest edition to the list is Gangubai Kathiwadi, which tells a story of a woman duped and sold to a brothel. She takes charge of her destiny and builds an empire. She owns brothels and makes underworld connections.