[rate]
Your Rating ?
Pannaiyarum Padminiyum Movie Review
Cast: Vijay Sethupathi, Iyshwarya Rajesh, Jayaprakash, Thualasi, Bala Saravanan, Neelima Rani
Story, Screenplay and Direction: S.U. Arun Kumar
Music: Justin Prabhakaran
Cinematography: Gokul Benoy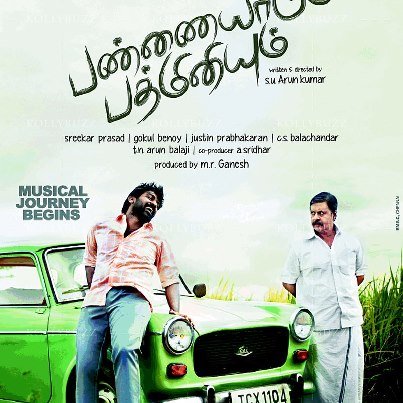 Debut director S.U. Arun Kumar's tale is about the bonding that exists between a 'Pannaiyar', who is a much respected man in the village, and his car. This car becomes the cynosure of all eyes in the village and the tale is primarily about Pannaiyar's family, their driver Murugesan and how their 'Padmini' car holds such a special, irreplaceable place in their lives.
Vijay Sethupathi is back after last week's Rummy, where he was more like a second lead. But here Vijay is in the thick of action and puts up a convincing and typically lifelike performance as Murugesan, the driver who works at the Pannaiyar household and is almost like their son. The movie also has a little romantic angle for Vijay with a girl in the village, played by Iyshwarya Rajesh, who is another actor who was recently seen in a pivotal role in Rummy.
Pannaiyarum Padminiyum (PP) is majorly about the beautiful relationship that exists between Mr. and Mrs. Pannaiyar, played wonderfully by Jayaprakash and Thulasi. Such a mature yet playful romance hasn't been shown in a more convincing manner in recent times.
Storyline
Pannaiyar (Jayaprakash) is a good hearted chief of the village. He buys very new invention like Radio, Television, Telephones and gives free access for his villagers. Such is his affection for them and commands supreme respect in the village. He has an affectionate and understanding life partner (Thulasi) and Mrs. Pannaiyar commands equal respect as her husband does among the villagers.
Pannaiyar gets attracted to a Premier Padmini car owned by a friend (Mahadevan) which the friend leaves in the former's custody for time being. Not only Pannaiyar but all the villagers including the driver of the car Murugesan (Vijay Sethupathi)start loving it like a pet and they cannot think of giving it back to its owner.
Meanwhile Pannaiyar wants to drive the car on his own but it is not so easy for the old man. Murugesan though being a loyal servant, uses the car to nourish his love for Malar (Iyshwarya Rajesh), without Panniyar's knowledge.
Whether Panniyar manages to retain the car forever? Does he succeed in his ambition of driving the car on his own? What happens to Murugesan's love for Malar? The answers are told in the rest of the film.
Performances
Equal credits should go to Jayaprakash and Thulasi for stealing the show as a good hearted couple with oodles of affection between themselves and for others. While Jayaprakash has effectively used another chance to prove his acting skills, Thulasi for the first time in her second innings of her acting career gets such a major role and carries it with sheer aplomb.
Vijay Sethupathi proves again that he never cares for the length but for the depth of the character he plays in a movie. He excels as a driver emotionally attached to his boss's family who does not hesitate to reprimand his boss's behavior whenever needed. He also fits in the needs of romantic and sentiment sequences.
Iyshwarya Rajesh fits the role of a village girl and does not have much scope to perform. Bala Saravanan is a revelation. The wit, antics and dialogue delivery of this young man, as Peedai whose words or even the presence is capable of brining ill fortune to others, succeed in making you burst out laughing every time he appears on screen and thankfully he nowhere touches the line of crass.
Neelima Rani fits the bill while Sneha does not fail to impress in a small but sweet cameo.
Songs of Justin Prabhakaran are pleasing and re-recording is soulful. George Benoy has effectively portrayed the village with its native and rustic feel through his lens. Editor Sreekar Prasad should be commended for holding the attention of the audience throughout the film with a script that lacks depth.
Positives
Feel good factor
Humor
Performances
Music
Negatives
A bit Lengthy
Lack of depth
Verdict – You may excuse the slow pace and give this one a watch as it has its heart in the right place and is packed with brilliant lead performances