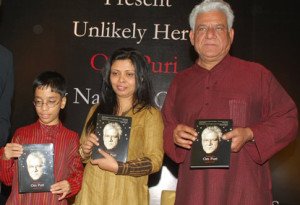 Om Puri's marital life hit the rocks ever since his wife, Nandita decided to pen his biography. After the book released, the world got to know about some of the most private incidents of Om Puri's life. Titled 'Unlikely Hero: The Story of Om Puri', the book talks of the sexual encounters of Om Puri.
The iconic Bollywood actor who has bagged a Padma Shri for his memorable contribution to Indian cinema could not agree with the incidents being made public and thus ensued the fights in their marital life.
As per the latest developments, Nandita was attacked with a stick by Om Puri and she ran to the Versova Police Station to file a complaint against the actor of domestic violence. She went to the Cooper Hospital and submitted a medical report too, to substantiate her claim.
The police are looking for Puri but the veteran actor cannot be traced anymore. He has apparently gone missing and the police are unable to find his whereabouts. The police are still looking for him.