Indian weddings are incomplete without Mehndi as it is believed to bring good fortune and a bright future. What's more? It looks gorgeous on the bride's or groom's hands. We are on the constant lookout for fresh and stunning mehndi designs which apart from looking gorgeous have a personal touch to them. There are various new mehndi designs ideas out there – brides are incorporating different and incredibly creative elements such as wedding vows, hashtags and their love stories to their Mehndi!
Personalised unique designs
Go for a mehndi design that adds something that's personal to you. Right from portraits of your beloved puppy, to quotes that are special to you to even caricatures of each other in their respective hands. A new trend is getting your wedding hashtag added to the bride's mehndi designs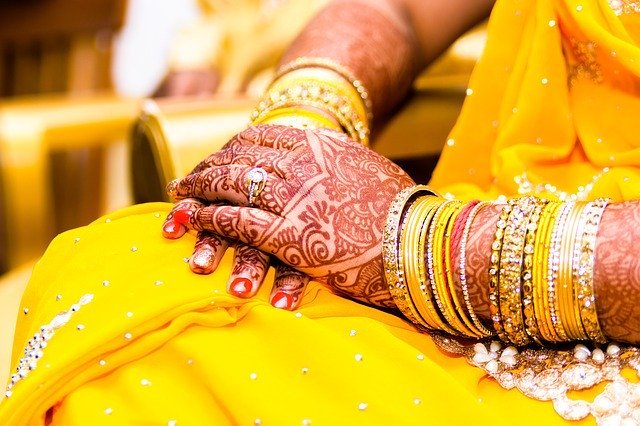 Bride and groom portraits
The minimalist brides who don't want to embrace a supremely intricate mehndi design can consider this style because it doesn't have to be an entire arm sleeve design. The groom and bride's portrait in the centre, encompassed by elegant bootis and other elements are beyond perfect. And on the wrist and forearm, you can get uniformly spaced bands to make it look more superb. 
Backhand mehndi design
The simple mehndi design on the other side of your hand deserves equal attention and style. So, you can opt for this simplistic yet classic full backhand mehndi design which is sure to get a few glances. It can feature repetitions of leaves and concentric florals and connected by dotted lines.
Peacock mehndi design
Peacocks and swirls together are probably designs that would stick around forever. And if you are a fan of these brilliant motifs, then this mehndi design for the back of your hand or feet is something you'll definitely fancy!
Swan and lotus motifs
An elegant bridesmaid's mehndi design with the timeless lotus and a dainty swan motif is absolutely classic. You can add a more modern flair by accenting the design with some leaves or buttis. 
Vows in mehndi design
Modern brides are taking a step further with their mehndi designs by adding their wedding vows to the beautiful mehndi design. It's not just quite unique but also really cute and romantic, as a form of expression and promise to one and another. 
Simple Designs
Some people do not like the idea of sitting idle for a few hours whilst getting elaborate patterns artistically done on their arms and feet. So if this sounds like your problem, do not worry, we've got you covered. You can go for a mehndi design that is extremely simple, swift and easy to put on, but still looks beautiful. 
Minimalistic designs have become a popular trend these days! If yours is a minimal wedding where everything from your outfits and jewellery to the venue decor is dainty and subtle then you can for a simplistic mehndi design that is in sync with the theme and looks great in photos.