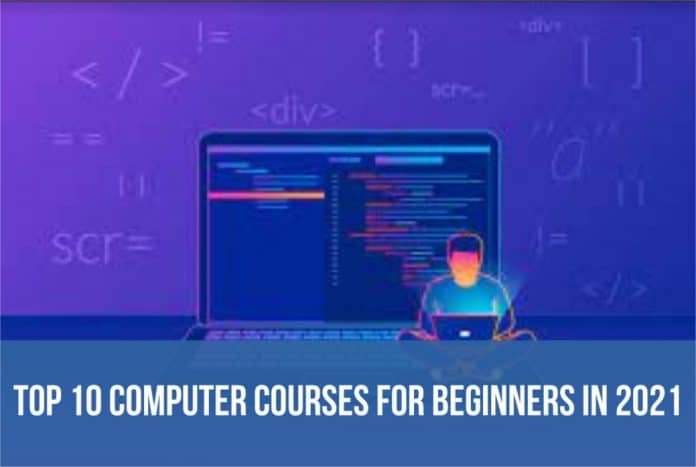 Have you completed your schooling and are confused regarding selecting a professional course that is best for you? If yes, then this article helps you make a firm decision. Here we have discussed some of the top computer courses of 2021 that are perfect for beginners. With the growth in technology, a computer course is one of the most sought-after courses, and you don't need to have any specific degree to do any of these courses. So check out some of the excellent computer courses that might help you get a good job and make a great career.
Top Computer Courses for Beginners in 2021
Data Science
With digitization, the data stored on the cloud and other platforms are also increasing. The companies look for skilled Data Science experts who can help keep their company's vital information safe and secure. The Data Scientist experts know how to work with code and know about statistics. After doing a course in data science, the skills learned are Predictive Analytics using Python, statistics, data visualization, Big Data Analytics, Machine Learning, and much more.
Big Data Engineering
As one of the popular computer courses, Big Data Engineering is critical for students after 12th. The primary responsibility of a Big Data Engineer is to build large-scale data processing systems and are primarily responsible for creating, testing, and getting involved in the regular and maintenance of Big Data solutions within the company.
If you look to foray into the booming IT/Computer sector, then a course in Big Data Engineering is one of the best computer courses that students can opt for. The skills that one will learn by doing this course include Python, Spark, Scala, R, MySQL, NoSQL, Hive, Apache Kafka, etc.
Data Analytics
Data Analysts are more logical thinkers and know how to create statistical techniques for generating managed data. Companies look for data analytics experts as the analysis done by them helps companies in planning their marketing campaign and other administrative-related work. Since there is a massive gap between demand and supply change, data analytics can help aspirants kick-start your career.
Artificial Intelligence
Almost all companies nowadays adopt artificial Intelligence. Many renowned companies like Microsoft, Amazon, Accenture, etc., deploy Artificial Intelligence within their business to become successful. The skills one can learn by doing a course in AI include neural networks, Deep Learning, Predictive Analytics, graphical models, and much more.
Digital Marketing
Companies use different digital marketing strategies to grow the business, and learning those tricks and procedures can boost the resume. Students can add another feather into their hat by opting for this course.
Today all companies prefer online marketing for their marketing needs and look for experts who can help grow their business beyond boundaries. The skills one can learn by doing a digital marketing course include SEO, SEM, PPE, branding, marketing analytics, content marketing, social media marketing, etc.
One can join a digital marketing course post completing their 12th from a recognized university or college or institute. Some top roles taken by digital marketers include Email Marketer, Social Media Manager, SEO Executive, SEO Manager, Digital Marketing Consultant, etc.
Software Development
Software development always remains essential in the field of technology as an ideal computer course. Software Developers have complete knowledge of different programming languages and play a crucial role in the smooth functioning of the software.
There are many online courses with certificates that will open up opportunities related to software development. These computer courses or certifications are like – a Programming Languages course, Web Development course, Mobile App Development Course, Web Design Course, and many more. These courses can help students have a whooping career ahead.
Cyber Security
With increased digitalization, cybersecurity concerns have also increased. Almost all companies depend entirely on online data and transactions. Thus it is vital to save the data from online threats and breaches. Therefore companies look for a Cyber Security expert who can help prevent unprecedented network and cyberattacks.
Doing a Cyber Security course helps you know how to avoid online frauds, cyberattacks and save the company's crucial data from getting hacked. So get enrolled for one of the most demanded computer courses, a Cyber Security course, to have a flourishing career.
The demand for Cyber Security experts is increasing and will continue to grow in the long run.
Web Development
With the growth in online businesses, the demand for Web Developers is also rising. Companies look for experts who can create dynamic websites that help them get more business by making their products and services accessible to international clients.
The Web Development jobs are in high demand, and companies are ready to pay whopping packages. One can either work as a full-time employee or can take freelancing work for different companies. If you are looking for productive computer courses, enroll in a Web Development Course to be a part of the booming tech sector in India.
Web Design
Web designing is among the popular computer courses for beginners planning to design or develop a website. Today attractive logos, professional web designs, web pages, brochures, etc., play an essential role in increasing the company's reach towards its customers.
Some of the skills that one can learn by pursuing a web designing course include XHTML, HTML, CSS, JavaScript, etc. If one wants to have a career in the web designing world, one can enroll in this course. Post completion of the course, professionals can quickly get a job in a good company or even start their venture.
VFX Training and Animation
Another interesting computer course perfect for beginners is VFX Training and Animation. Animation is a trending course, and by enrolling in this course, one can learn more about animation, 3D subjects, graphic designing, and many others. VFX and character animations are the core of augmented reality (AR) and virtual reality (VR), whose demand is much more in creating video games.
By enrolling in this course, one can learn in detail about development, animation, etc. Even the scope for VFX professionals is not limited to creating video games; instead, they can try their hand in movies, animated films, and video games.
If you are passionate about enrolling for job-oriented computer courses, make sure you select the best computer courses based on your talent and learning abilities. For doing any of these courses mentioned above, you don't need to get specific training; only passion and dedication are essential. Many of the computer courses can be done online, thus offering better flexibility. So, students must have clear future goals before taking a plunge into the technical field.