The much-awaited Diwali film is an entertaining mix of spectacle and human-scale drama, but would have been better had it been a tad more original. Hrithik Roshan is brilliant in his double role and Kangana upstages the film's lead actress Priyanka, say critics.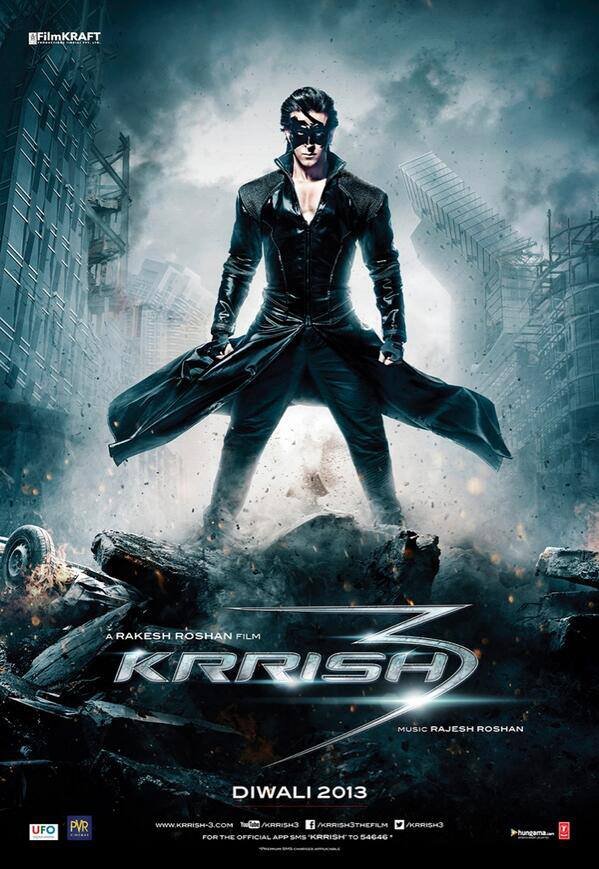 Cast: Hrithik Roshan, Priyanka Chopra, Vivek Oberoi, Kangana Ranaut
Director: Rakesh Roshan
TO WATCH TRAILER: CLICK HERE
Rating: ★★★☆☆
Plot: 
Krrish 3 continues the story of Rohit Mehra (Hrithik Roshan) and his superhero son Krishna or Krrish (Hrithik Roshan), after Koi… Mil Gaya and Krrish. When Krishna is not saving lives, he is trying to hold down a job. He lives with his wife Priya (Priyanka Chopra) and father Rohit in Mumbai. Hell breaks loose when a virus spreads in the city.
Rohit finds a cure for it but manages to earn the wrath of Kaal (Vivek Oberoi) who releases his army of mutants or Manwars (Manav + jaanwars) on his family. Krrish has to save his family, his city, it's people and overpower this super villain.
Performances:
Both Vivek Oberoi and Kangna Ranaut measure up to the demands of their respective roles. The duo often seems to tower over the material.
Kangana, in fact, completely upstages the film's lead actress. Her presence is far sharper and more impactful.
Priyanka Chopra, in contrast, is saddled with a sketchily written role and is reduced to the status of a hanger-on waiting for things to unfold.
Hrithik Roshan, on his part, breezes through the multiple personas with the requisite zest and conviction.
Negatives: It's a gallery of product placements, which ruins the movie experience repeatedly.The music could not have been worse. The film — aimed more at kids, than adults gets a little complicated at times, making you wonder if the young ones will be able to grasp it. It is highly derivative. It borrows heavily from almost every superhero film you have seen.
Vredict: Krrish 3 can unabashedly enjoy for what it is. Go on, indulge the superhero fan in you.