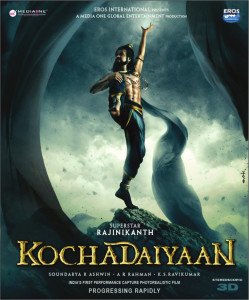 Superstar Rajinikanth's fans around the globe can heave a sigh of relief: at last, the date of theatrical release of Rajini's upcoming animation 3-D venture Kochadaiiyaan has been finalized. Kochadaiiyaan would be releasing on 12th December this year, the day  Rajini turns 63.
To see Kochadaiiyaan movie stills: CLICK HERE
Kochadaiiyaan is Rajini's first full-length feature film after he fell ill in 2011 and then underwent a long period of recuperation. He also made a 'blink-and-miss' appearance in Shah Rukh Khan's Ra.One in 2011. Kochadaiiyaan has been delayed for a long time now and the fans have shown exemplary patience on their part to watch their Thalaivar on screen.
Rajini's younger daughter Soundarya has directed the film under the supervision of K.S. Ravikumar, who made the super-hits Muthu and Padaiyappa with Rajini. KSR has also penned the story, screenplay and dialogues of Kochadaiiyaan. A.R. Rahman has scored the film's music which has a customary introduction song of Rajini sung by the legendary SPB, Rajini's 'on-screen voice' for many decades now.
Deepika Padukone has been paired up opposite Rajini in the film. Deepika, it is said, shot for her sequences in the film for not more than 2-3 days but was paid a whopping sum of Rs.3 crore as her fee. The film's teaser was released on 09th September and was watched/downloaded by a record number of netizens in its first few days. The film would now release in theatres worldwide on 12th December.
Readers might recall that on Rajini's birthday last year (12-12-12), the 3-D version of his super-hit Sivaji: The Boss was released.