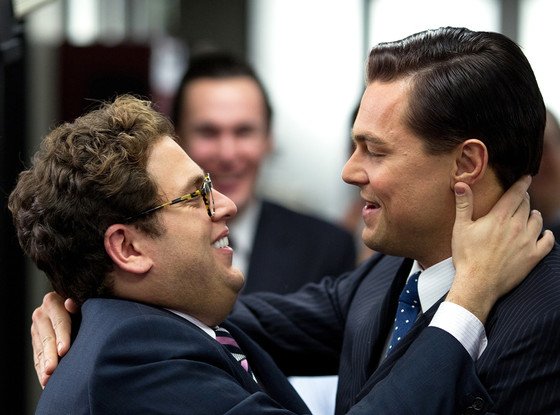 The Wolf of Wall Street may be all about excess, but the money made by Jonah Hill to play stockbroker Donnie Azoff in the flick is anything but excessive. (Well, at least by Hollywood standards.)
While being interviewed by Howard Stern during his radio show on Tuesday, Jan. 21, the 30-year-old actor admitted he was willing to work for the SAG minimum in order to collaborate with director Martin Scorsese.
During the broadcast, the program's official Twitter account posted the following: "Now on H100 @jonahhill tells @howardstern that he did the 7 month 'Wolf of Wall Street' shoot for $60,000 because he wanted the role so bad."
NEWS: Wolf of Wall Street costars Jonah Hill and Margot Robbie have mini lovefest at Golden Globes
What's more, Hill told Stern he couldn't sign his contract fast enough because he was so afraid they would change their minds and hire someone else.
But of course, that didn't happen. And now, Hill finds himself nominated for an Academy Award for his performance opposite Leonardo DiCaprio.
And you can't put a price tag on that.
"I am in complete and total shock," Hill said in a statement after receiving the nod in the Best Supporting Actor category last week. "I honestly was not expecting this, on a level you can't even imagine. Again, I'm clearly in shock. I didn't have a plan for celebrating today because I truly did not expect any of this…Truly, this is shocking."
Hill was previously nominated for an Oscar for 2011's Moneyball.