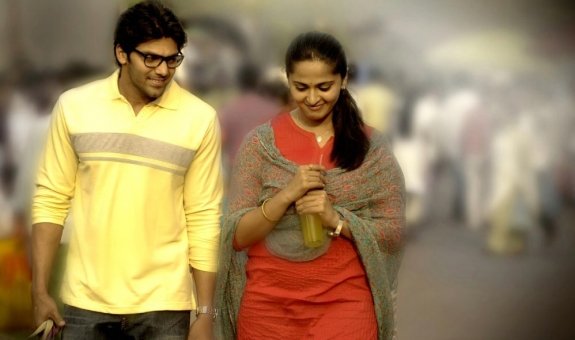 [rate]
Your Rating?
Cast: Arya, Anushka Shetty
Direction: Selvaraghavan
Music: Harris Jayaraj
Background Score: Anirudh Ravichander
Storyline
Madhubalakrishnan (Arya), a college professor,  rejects Doctor Ramya's (Anushka), proposal for marriage citing family problems. However he falls later for her and tries various methods to woo her and get back her love while Ramya is engaged to someone else.
Simultaneously in the fantasy world (Irandam Ulagam) created by a mother goddess, who is considered so precious for all the people living in that world. However women are treated as slaves in that world and it is about to be completely conquered by the enemies. The world is completely devoid of love and only if love blossoms between a man and woman, the world can be saved from the enemies. Maravan (Arya) the coward and coy son of the King's chief aid falls for Varna (Anushka) who is a independent and valorous girl. Varna is forced to marry Maravan, as ordered by the King, though she is not interested in a relationship.
What happens to Madhu and Marvan's loves? Is there any connection between the two? Answers to these form the rest.
Script Review
Director Selvaraghavan's fascination for romance has been evident since his maiden film and this time he has attempted to merge romance and fantasy genres. The film starts of with an explanation that reiterates the belief that there may be various planets in this universe which may have the existence of Human life, apart from the Earth.
Selvaraghavan has envisaged such a planet and a different set of people (speaking Tamil may be for audience's convenience). Given that this is touted as a fantasy film one does not expect scientific reasoning behind exploring such an idea.
However the execution should be entertaining so that the logical defiance can be forgotten.Irandam Ulagam fails big time in this aspect. Moreover the world has many things common with the world we live in. Why all others except Maravanand Varna are shown as white people. If it has to be presumed as the director's creativity why does it limit to White skin alone and why not other breeds that look like Indians, Africans etc. And the White people speaking Tamil is pathetic to the core.
The story in the world we live in provides some relief though not so enticing. Selvaraghavan has not lost his sheen in showcasing romance. His understanding of the current trends in the world of cupid is evident in the romance sequences and the romance between Madhu and Ramya can be considered as the best part of the film.
But the second half drags big time and the sequences lack reasoning, The audience are left to keep on questioning so many things and at one point they end up expecting the end. A minor twist in Madhur's love that is shown at the last scene would have made us smile if the scenes preceding that did not make us restless.
Cast and crew
Anushka simply rules Irandaam Ulagam and she is one of the biggest pluses of the film. As Ramya, the normal girl next door there is no challenge for this actress known for her acting prowess; Varna compensates this; The role of an independent and valorous girl is completely different and the tall girl has pulled it off more than convincingly. She also gets to perform sword fights which does not give the feel usually we get from the stunt sequences involving women in Tamil films. Anushka looks good and her costumes are also suitable in both the characters.
Arya as Madhu has failed in bringing out the right emotions convincingly, while he impresses as the innocent Maravan. However it will be better if he concentrates more on his dialogue delivery.
Harris Jayaraj's songs are hummable and 'Kanimozhiye' is the pick of the lot. Anirudh's re-recording passes muster.
Ramji's cinematography is a visual treat especially in the sequences in the second world.
Plus points
Minuses
Very slow narration
Illogical sequences
Lack of newness and novelty
Verdict
The film is the result of a highly creative idea but fails to impress thanks to poor execution.