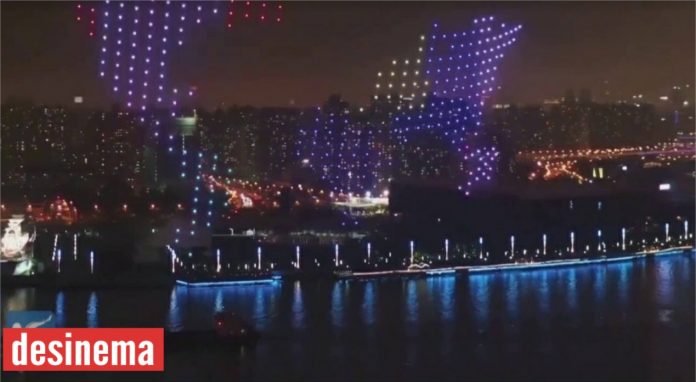 The anniversary celebrations of a supermarket in Zhengzhou, the capital of China's Henan province, had gone horribly wrong when a swarm of civilian drones performing a lively display, making multiple formations in vibrant colors came plummeting down.
The incident took place on October 1. In a video posted online, both adults and children were seen panicking and running inside the Wanda Plaza shopping mall in Zhengzhou High-tech Zone with hands on their heads. People in the video were heard screaming "back off" and "be careful."
A 20-year-old resident attending the show described the chaotic scene to VICE World News. "More and more drones came off. Some flew very far away, and some hit the trees." According to him, staff members let people seek refuge inside the mall and later on picked up the drones from the ground.
When talking to local broadcaster Henan TV, a witness said (in Chinese) that about 5,000 people, many of them children, were at the scene. Miraculously, nobody was hurt, according to the Beijing News (in Chinese).
Initially, organizers of the display blamed a competing drone company, alleging that their rival manufactured an "ill-intentioned signal inference" to sabotage the performance. But later, the shopping complex told (in Chinese) local police that the issue might have been caused by "operation errors" on its end.
Hailed as an environmentally friendly alternative to traditional fireworks, drone light shows are having a big moment in China, as businesses and local governments use them for promotional campaigns and celebrations. Last month, when Mèng Wǎnzhōu, the chief financial officer of Chinese telecom giant Huawei, landed in Shenzhen after more than 1,000 days on bail awaiting extradition charges in Canada, local officials employed 300 drones for an extravagant display in the sky, which included a message that read, "Wanzhou has returned home, the motherland is strong and formidable."
But flying over people is a tricky task, and the incident in Zhengzhou wasn't the first instance of things getting out of hand at a drone light show. In January, during the rehearsal of a performance organized by a shopping mall in Chongqing, a fleet of nearly 100 drones crashed into a building (in Chinese) due to a technical glitch.