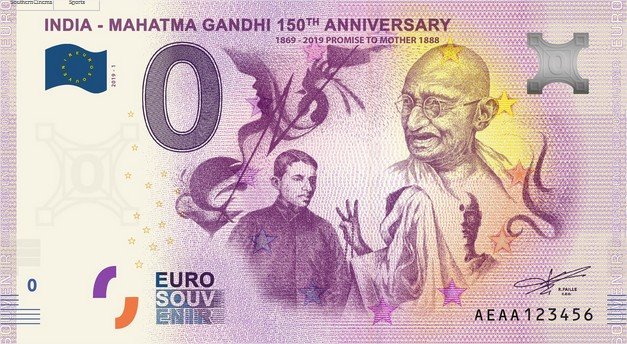 To mark the 150th birth anniversary of Mahatma Gandhi, a UAE-based company will globally release 12 bank notes of zero value, the first-ever limited edition commemorative series, an official said here on Wednesday.
The first two notes of the 12-part series, with just 5,000 pieces to be printed in each design, will go on sale at select outlets globally and online platforms while the remaining will be released in phases till October 2, said the top official of Numisbing Group, Dubai.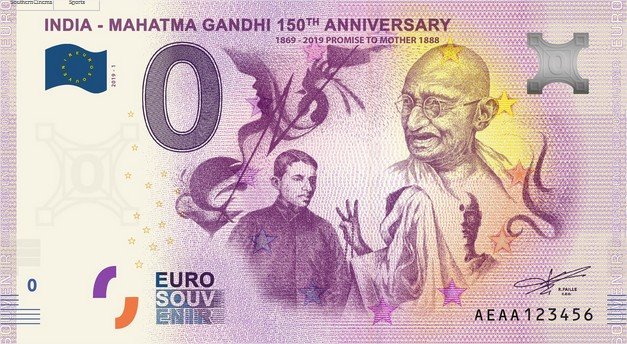 The special notes have been designed by Dubai-based Indian artist Akbar Saheb who is also the main illustrator for Prime Minister Narendra Modi's book "Mann Ki Baat".
Each note will feature memorable incidents from the personal and political life of Gandhi as a tribute to his legendary status, said Ramkumar Sarangapani, Numisbing Group founder and President of the International Bank Note Society, Dubai.
"Besides the fact that these commemorative notes have a huge shelf value, the bigger reason for the initiative was to bring Mahatma Gandhi back to life using incidents that are more than just history lessons," said Sarangapani.
The first (of two) note being released shows the "Promise to Mother" in 1888, the three vows the young Gandhi made to his mother Puttlibai before leaving for his law studies to England.
The promises included complete abstention from alcohol, non-vegetarian food and regarding all other women as his mothers or sisters, intendeded to prevent him from going astray in a foreign land.
The second note features the historic incident of 1893 when the young lawyer Gandhi was thrown off a train at Pietermaritzburg railway station in South Africa, from a "Whites Only" compartment.
That incident left a deep scar on his memory and laid the foundations for his non-violence movement that eventually proved the critical factor in India gaining independence from the British.
Initially, the plan was to issue just one commemorative note but since Gandhi's life was so inspirational and it would not be fair to confine him to just one note, it was decided to bring out a 12-part series, said Sarangapani.
Only once in the past, a similar initiative was taken. India issued commemorative notes with the image of Gandhi in 1969 to celebrate his 100th birth anniversary and were given for public use as well, he added.
An avid bank notes collector, Sarangapani features in the Limca Book of Records for having a unique collection of 45 commemorative bank notes of all denominations (from Re 1 to Rs 100) and all prefixes, that were issued in 1969.
The zero euro note is a souvenir bank note authorised by the European Central Bank and are printed in the same security printers as other normal euro currency notes, carry all security features, except that they are marked "0" to ensure they do not enter normal market circulation, said Numisbing co-founder Steve Desouza, who is IBNS-Dubai Secretary.
Numisbing Group is a Dubai-based arts and numismatics (collection of Coins and Currencies) company, founded in 2012, and has an exclusive gallery called "71 Arts" featuring the works of royal, Islamic and Arabic painting of top artists, including M.F. Husain and Akbar Saheb.