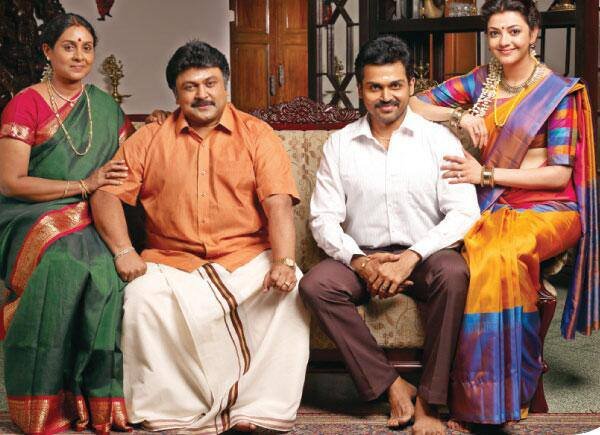 Rating: ★★☆☆☆
Cast
: Karthi, Kajal Agarwal, Santhanam, Prabhu, Saranya
Direction, Screenplay, Story : M Rajesh
Music: Thaman
Cinematography: Sakthi Saravanan
Storyline
Raja (Karthi) heads a local cable television channel and is most often in the company of his employee  Kalyanam (Santhanam), who is his faithfull employee. Raja is attracted to  'Chitra' Devi Priya (Kajal Agarwal), daughter of a rich businessman, who dreams of making it big as an artist.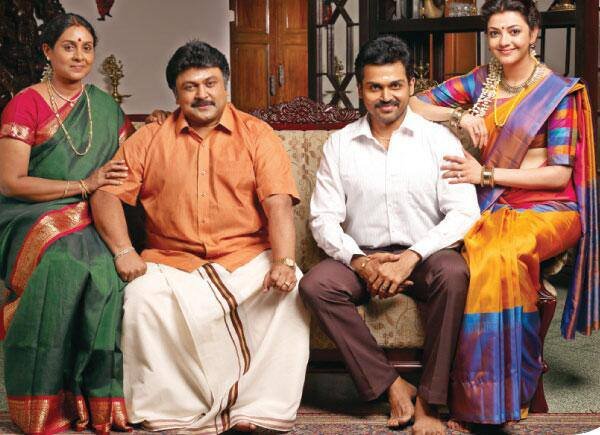 Raja is keen to 'net' Devi Priya at any cost and does he achieve this at the end forms the rest of 'All In All Azhaguraja.'
M Rajesh known for his comedy-based romantic entertainers ('Siva Manasula Sakthi', 'Boss Engira Baskaran' and 'OKOK') and tries to follow the pattern in 'AAA'. Also, his reliance on Santhanam to handle the comedy part, seems evident and it is certainly a letdown this time. While 'Boss' and 'OK OK' are fresh in our memory for its humour element. The story here too revolves around Santhanam and is a pretty simple one – a boy falling for a girl and the problems they encounter.
There is nothing new about the story as such with accent on romance and comedy, overall Rajesh's magic seems to be missing.
The versatile M S Bhaskar as the dance master manages to raise a few guffaws in the second half.
Performance Review
Karthi and Santhanam  had a  better outing in  their film 'Siruthai'. In 'AAA', it is not the case with the latter's comedy falling flat at times. If it was 'Nanbenda' in 'Boss…' and 'Factu Factu' in 'OKOK', he tries something similar here with 'Oh Ho Na Na' but overuse tends to dampen things. It must be said Karthi breezes through his role.
Kajal Agarwal looks pretty but somehow lacks the fizz in the movie.
MS Bhaskar and Kota Srinivasa Rao hold their own while veteran Prabhu does very well in the role of the hero's dad and comes up with an authoritative performance.
Thaman's music is passable and his numbers 'Yaarukkum Sollama', 'Unnai Partha' and 'All in All' sound good. Rajesh made a mark as a commercial director but this movie may peg him back a touch.
Positive Points:
Karthi-Santhanam
Miss it for
weak storyline
Lackluster scenes
Length
Lack of logic
Verdict: A big let down by director Rajesh and Karthi, as there is no maturity or novelty in any department.
All in All Azhaguraja: Disappointing show