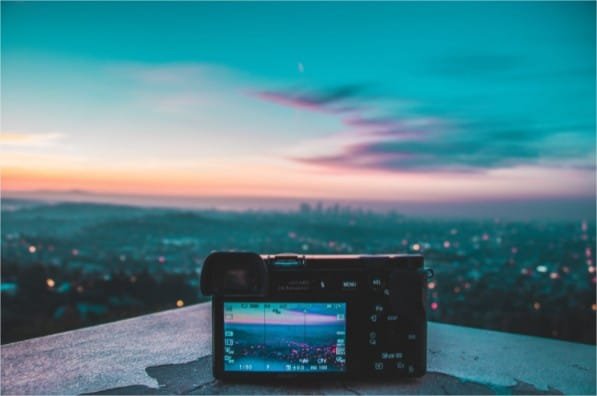 'America runs on Bulova time'. These were the words that were voiced over a crackly black and white shot of a clock face back in 1941. This is widely acknowledged to be the world's first video commercial, aired to just 4,000 people in New York.
Fast forward over 80 years and we are well and truly in the digital video age.
Netflix, YouTube, TikTok. These are all household names. Eighty-five percent of US households are subscribers to a video streaming platform. Five billion videos are watched on YouTube each day by 2.5 billion users. And the TikTok app, a relative newcomer, has already been downloaded onto three billion devices worldwide.
Quite simply, the world loves video and currently consumes an immense amount of them on televisions, tablets and phones. Why not make sure you are a part of this? If your business is not yet tapping into the incredible potential of video, then it's imperative to change this.
Creating digital videos is not as difficult as you might think. While you won't be creating million-dollar Superbowl commercial videos straight off, with the right help from film production professionals you can create something dazzling that can get your business noticed across many video platforms.
Here are seven types of video to inspire you to get your business online as a video creator.
The commercial
We're all familiar with the concept of a commercial. A 15 to 30-second video designed to tell a story, promote your products or services, or get a message across. While the original video commercials were designed for television, filling short breaks in programming, the format is now used far more widely.
We now also watch commercials on social media platforms like Facebook and Instagram, on YouTube, in cinemas and in other public spaces. It's a format that's both durable and flexible, as well as well loved.
With social media and other online platforms, it is much easier to target an audience precisely based on geography or demographic data so it's much more accessible and useful to SMEs than before.
You might use commercial videos to showcase your brand, tell its story, or highlight a particular product or service. The golden rules, however, are that commercials should be creative, bold and above all, slick and professional. Get these right and you'll generate very positive attention.
The product or service demo
A product or service demo is the type of video that you want anyone who's considering a purchase or is in the market for your product. It's designed to illuminate your product or service, highlight its benefits and explain why your viewers should be making a purchase.
With this in mind, your video needs to not only be slick and polished, but also concise and factual. Often, an enthusiastic host will demonstrate the product, giving helpful information and a commentary along the way. Animation and stop motion with the help of voiceover artists are also possibilities.
The explainer
If you have a service or product that is unfamiliar to the public or might not be immediately understood, then you need to make an explainer video. Explainer videos are simple and clear, breaking down how your product or service works into easy-to-follow steps.
Alternatively, an explainer video might show watchers how to solve a problem or complete a difficult task with ease by using one of your products. Explainer videos are popular on Youtube, where users can easily search for help with everyday issues and using products.
Explainers are often animated with a voice over recording. They can also be created through a time lapse of photographs or illustrations, or live-action demonstrations. Unlike a commercial or product demo, they don't need to be super short.
However, you should aim to provide value to your consumers while still being as concise as possible. After all, viewers will have an eye on how long your video is before deciding to click on it.
The live video
The live video is a newer format that is popular on social media. Live videos can create real buzz around your brand. Being live creates an atmosphere of urgency, relevance, energy and excitement. Live videos are also great for interacting with followers and maximising engagement.
There are lots a business can do with live videos such as Q&A or interviews with key people, webinars and even product announcements. Like all video formats, live videos need to be carefully thought out. An element of spontaneity is important here, but so is looking professional and organised.
The educational video
The idea behind educational videos is that you're building your brand's authority and demonstrating its expertise to an online audience. Most businesses are familiar with blogging and guest posting to build an online presence and gain followers. You can do the same thing with video content by providing your viewers with interesting, informative video content.
Concentrate on engagement. You'll need a great script and some hooks to keep your viewers watching your video. Stats and interesting anecdotes are a great way in. However, your video needs to offer value throughout so make sure there's plenty of useful content too. Your video needs to be visually compelling, too.
The company culture video
For getting across your core values and humanising your brand, the company culture video is the right video to make. These videos can be of real interest to people. Much research has shown that people, particularly millennials and younger generations, value authenticity and honesty as much as the price point.
The company culture video can also be a useful recruitment tool, showing what life is like in your organisation and employees enjoying their roles. Most often, company culture videos mix interviews with footage of personnel. Music and graphic choices are important and must stay on-brand.
The testimonial video
You're probably aware of the benefits of good reviews being plentiful and easy to find. A testimonial video placed on a homepage can be a valuable tool for placing great reviews right in front of your customers.
A video testimonial can often be more emotionally appealing and engaging than its written equivalent. Video reviews can resonate more since your viewers will be watching their peers describe how your product or service has solved their pain point.
Get professionals involved in your video projects
It's crucial to seek professional help with all elements of video production, such as music, scriptwriting, voiceover work, graphics and more.
This investment will reap far greater rewards for your company through slick, on-brand and engaging video content you can post on social media and across the web, ready to be watched by those billions of online video consumers.