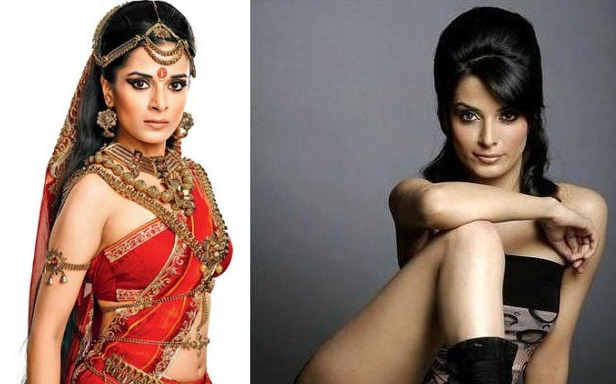 The 2013-2014 TV series 'Mahabharat' recreated one the greatest epics of all time. Receiving both critical acclaim and commercial profit, this TV series was also a fresh variant of the 1988-1990 TV series by the same name. Its popularity is evident by the fact that it was dubbed into six further regional languages and its premiere was seen by a whopping 8.4 million people. All of its 267 episodes kept the audience hooked, even when they knew what the outcome of the series was. The entire cast became famous, and for most of them, this series became the most successful project of their career. But audiences have always wondered about their life outside the show. So, here we are presenting Mahabharat Characters & Their Real Life Avatars.
1. Draupadi – A Miss India Hopeful
Reel

Source
Real

Source
25 year old actor and model Pooja Sharma, before getting under the skin of Draupadi was a finalist at the 2006 Miss India pageant, where she placed among the top10. While shooting for Mahabharat, she had a near to death experience when her wardrobe caught fire, but soon she was brought to safety before she could get harmed.
2. Bheem – Spotted On A Social Networking Site
Reel

Source
Real

Source
Bheem is the epitome of strength in Hindu mythology and he was played by small town boy from Madhya Pradesh, Saurav Gurjar. This former wrestler was spotted by the makers at a social networking site. He was first seen as a participant in the 2012 reality TV series 'Ring Ka King' where he went by the stage name of 'Deadly Danda'. Saurabh, who was new to camera before filming Mahabharat, was unsure if he could pull it off, but eventually tried it on his friends' persistence.
3. Arjuna – The Next Big Thing In Indonesia
Reel

Source
Real

Source
31 year old actor Shaheer Sheikh was casted in one of the most pivotal role of the series – Arjuna. The former lawyer's portrayal of Arjuna became so popular in Indonesia that it even sparked a reality show there, 'Panah Asmara' Arjuna (Arjuna's Arrow of Love) featuring him.
4. Nakula – Namesake After Vin Diesel
Reel

Source
Real

Source
Delhi boy Vin Rana, who debuted with this series portrayed Nakul in it. He changed his name from Vinay to Vin since he is a huge fan of actor Vin Diesel. This model and actor worked as a service engineer at a tender age of 16. Currently, he is dating Indonesian beauty queen Nita Sofiani. Besides, he is a fitness freak and a family man.
5. Sahadeva – Twice Casted
Reel

Source
Real

Source
What makes Lavanya Bhardwaj stand out from the rest of the cast is the fact that he is the only actor among the entire cast who played the same role earlier in a different series. He played Sahadeva in this series as well as in the 2008 TV series 'Kahaani Hamaaray Mahaabhaarat Ki'.
6. Bhishma – The Dhoom Gang Member
Reel

Source
Real

Source
Think you know Arav Chowdhury who played Bhishma? Most people remember him from playing the old righteous father figure in the series, but this Hollywood Film Institute graduate got his first major break by playing one of the gang members of con artist thieves led by John Abraham in the 2004 movie 'Dhoom'.
7. Duryodhan – Grooving With His Wife
Reel

Source
Real

Source
Playing the primary antagonist of a series is no meant it. And Arpit Ranka knows how it feels when the entire loves to hate him for what he does on screen. This model turned actor, who is known for his greatly shaped body caught attention when he participated in Gladrags Male Model of the Year. In 2015, he participated in the seventh season of 'Nach Baliye' along with wife Nidhi Ranka, where they finished in 10th place out of 13 couples.
8. Shakuni – The Mechanical Engineer Who Worked In Wipro
Reel

Source
Real

Source
Playing one of the most notorious characters of the show was Praneet Bhat. This 34 year old model and actor's portrayal of Shakuni became one of the highlights of the series. In real life, Praneet is a mechanical engineer turned actor. He also has worked in the multi-national company Wipro for a while. Soon following his stint in Mahabharat, he became one of the 19 housemates in the eighth season of 'Bigg Boss', where he lasted for 91 days and finished in 9th place.
9. Karna – The Sexiest Asian Man
Reel

Source
Real

Source
Yes, you hear us! Aham Sharma, who played Karna in the series was placed at 27th position in the list of 50 Sexiest Asian Male List 2014. But he is much more than what pleases our eyes. The character of Karna, which was one of the last to be cast was bagged by this 25 year old engineer.
10. Ashwatthama – A Former Roadie
Reel

Source
Real

Source
Delhi boy Ankit Mohan who was seen as Ashwatthama, first found fame in 2006 during the fourth season of 'MTV Roadies', where he was one of the 13 contestants chosen. He finished in 12th position. In 2011, he starred alongside Shahid Kapoor and Sonam Kapoor in the film 'Mausam', where he was selected out of 800 applicants.
11. Amba – Failing At Finding A Husband On Reality TV
Reel

Source
Real

Source
Portrayed by 28 year old Ratan Rajput, this damsel has had her share of reality TV. In 2011, she starred in her self-titled reality show 'Ratan Ka Rishta' to find herself a suitable life partner. Although at the end of show, she got engaged to the winner, Abhinav Sharma, but presently their relationship is no more. In 2013, she was one 20 housemates in the seventh season of 'Bigg Boss', where she lasted for 28 days and finished in 17th place. Enough of reel now explore the Real Game – Play Online Solitaire Masters Free