Vidiyum Munn – Rating: ★★★★☆
[rate]
Your Rating?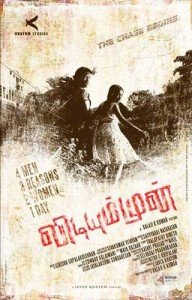 Cast: Pooja Umashankar,Malavika Manikuttan,Vinoth Kishan,John Vijay

Storyline
Rekha (Pooja) is a sex worker who escapes in a train with Nandhini (Malavika) a 12 year old girl, to save her from the clutches of prostitution. Durai Singam and Chinnaya want the girl for different reasons. Chinnayya threatens to take the life of the pimp Singaram(Amarendran), if he does not bring back Rekha and the girl within 24 hours. Singaram seeks the help of Lankeswaran aka Lankan (John Vijay) to chase the duo. What happens to Rekha and Nandhini forms the rest.
Script Review
Director Balaji K.Kumar has taken up a serious issue which would make many, wonder whether we live in a society where these things happen. The film touches upon the lives of Sex workers, pimps and their customers who yearn to seek sexual pleasure from children, in as riveting manner as such a story has to be.
The director has packed the script with necessary twist and turns which are used not just for the sake of wowing the audience but to make the narration interesting. The non-linear narration is used in such a way that it does not disturb the viewing.
The suspense element has been maintained throughout the film and once it is revealed towards the climax you are not let down instead you feel it's worth the wait. Those who might have guessed the hidden part would also like it for the way it has been unveiled.
The characterization of the 12 year old is another reason to appreciate the director. The child has been portrayed as clever, but nowhere she make us feel that she speaks or reacts beyond her age.
Dialogues deserve a special mention especially the story narrated by Singaram to Rekha to convince her to do what he wants.
However the film moves a bit slow to our comfort.
Cast and crew
Pooja is back after a long gap after Naan Kadavul. She deserves appreciation for many reasons. For daring to do a sex worker in a comeback venture, for pulling off the role with finesse and for dubbing with her own voice without making a notable mistake in pronunciation and modulation.
Malavika excels in histrionics as well as dialogue delivery. Her voice sounds unique for the girl of her age.
The way John Vijay, has pulled off the role of a clever conman who would do anything for money, makes one wonder why this man is being underutilized in the industry.
Girish Gopalakrishnan's Rerecording adds momentum to the proceedings. Songs are passable. The way the night sequences have been captured, make Sivakumar Vijayan, a Cinematographer to watch out for. Art direction is amazing.