Veeram is directed by Siva and produced by Vijaya Productions. According to sources, 'V' is a lucky alphabet for Ajith Kumar. His earlier films in 'V' were Vaali, Varalaaru and Villain. It is a mighty coincidence that the production company's name also starts with 'V'. The makers of Veeram are hopeful that their latest movie will be a superhit like Thala's afore-mentioned earlier movies.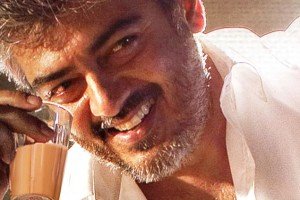 The shooting of Veeram is happening at a rapid speed. The important action sequence of the film in a train is being shot in Raigada a border town of Odhisha. The makers of the film want to release the flick for Pongal 2014.
Ajith Kumar fans, who have been curiously waiting to know more about the movie, will be happy to hear that the first look will be released soon.
Veeram is an upcoming Tamil action comedy film directed by Siva and produced by Vijaya Productions. The film features Ajith Kumar, Tamannaah and Santhanam in the lead roles, while an ensemble supporting cast includes Vidharth, and Abhinaya amongst others. Pre-production work has been ongoing since December 2011, with the shoot ultimately starting in April 2013. The film is expected to release on the mid-January of 2014.