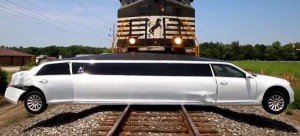 A 10000 ton freight train plowed into a stretch limousine in Indiana,smashing into the side of the limo and pushing it along the tracks for several hundred feet.
The limo which was carrying teenagers celebrating a birthday, was attempting to drive over the crossing but was stuck on the tracks when it was struck.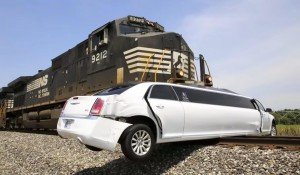 After getting stuck, the passengers got out of the car and stood alongside the train track.
They tried to flag down the train, and one person off camera can be heard saying "It's not going to stop, it's not going to stop!". They try to warn the driver, but he couldn't stop in time.
After the train eventually comes to a halt, with a limo for a new front bumper, the driver is asked "Did you see me?", which he did, and said "Yeah but I got 10,000 tonnes behind me!"
Amazingly no one was hurt in the crash.