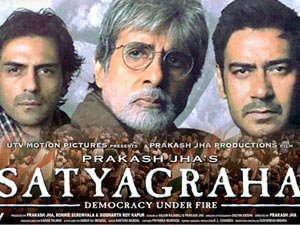 Satyagraha is an intense and emotional experience with a staggering performance by Amitabh Bachchan
Satyagraha is a film that works solely on your emotions. It is topical and socially responsible. Moreover, it is an intense and emotional experience. Prakash Jha made pertinent films like Damul (1985) at the onset of his career but it took him many years to find that loophole in the paradigm of commercial cinema where he made a non-masala film work with Raajneeti (2010). With Satyagraha, he has made his most important film, if not his best. That loophole will again be breached as Jha makes a film directly for the audience's idealistic fantasies and emotional zeal.
Amitabh Bachchan – There is nobody more loved and respected in the Hindi film making community than this giant of the silver screen. And for good reason. In Satyagraha, he gives his best performance in years. Watching Mr. Bachchan during the hunger strike scenes and not feeling a tiny spur of emotion is next to impossible. Collective national heartbreak is in order.
The film is clearly based on the anti-corruption movement that took place in 2011 started by Anna Hazare. He was tipped as the modern day Mahatma Gandhi. Satyagraha is a combination of two words: satya and agraha. Sandhi-vichhed – satya means truth and agraha means soul force. According to Gandhi, it meant insistence on truth, a nonviolent resistance movement, which he spearheaded and was followed by many countrymen. This is when we were being oppressed by outsiders. More than half a century on, we are being oppressed by insiders. Our own countrymen are reeking of corruption.
Certain dialogues in the first half are cringe-worthy. The melodrama and heavy-handedness is apparent in every frame. The romantic sub-plot between Ajay Devgn and Kareena Kapoor is a roadblock. But then again, it is the intentions that prevail and the second half is smooth sailing. The storytelling combined with social significance takes over and we get a powerful film in the end. There are certain scenes with certain messages about the difference between revolution and mutiny. The pros and cons of giving power to the people. (Yes, there are cons). The stand on violence and non-violence, it is these ideas that Anjum Rajabali and Prakash Jha's screenplay stimulates which, sadly, are easily done on film, not in reality.
It is a film that is worth watching for the simple reason that we are citizens of this country, living in these times. We are aware of the situation. Our economy is going downhill every second and our political system is becoming more and more corrupt. Prakash Jha shows us the mirror but also offers an alternative past, which may not have been optimistic but ideal. It offers a resolution and a future, which will probably not be realistic but earnest and responsible. It may not be a well-made film, even mediocre. But it works. More importantly, it is a film that stirs you and makes you wish you do something more for your country with a fierce insistence on truth