Rajnikanth in Bangalore
Whether he wants it or not, superstar Rajinikanth unfailingly makes news wherever he is: be it at his Chennai residence or at the hospital or at a public event or during one of his sojourns. Now in Bangalore for taking some rest, Rajini's fans congregated outside his residence throwing vehicular traffic completely out of gear and causing great hardships to the traffic police personnel.
Rajini's fans in Bangalore got wind of the fact that their 'Thalaivar' was in town and was resting at his Race Course Road residence in the heart of the city. It is said that Rajini has been in Bangalore for the past 4-5 days but despite his best efforts in keeping under wraps his visit to the city, the fans sensed his presence and converged at his residence in huge numbers.
Rajini appeared on the balcony of his residence, waved at his fans and even let fly a few 'flying kisses'. His trademark smile was enough to send his fans into a delirious mood. Slogans of 'long live Rajini' rent the air as the fans' joy knew no bounds at watching their matinee idol.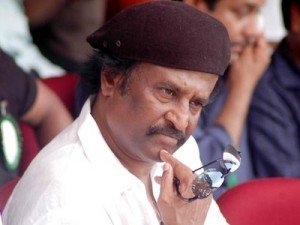 At one point, though, there was a literal stampede which created some commotion. The local police, which had arrived at the spot, dispersed the crowd by using their lathis to good use. Later in the day, Rajini was escorted by the police on his way to Mantralaya from where he is expected to return to Chennai in a couple of days' time.
Related articles