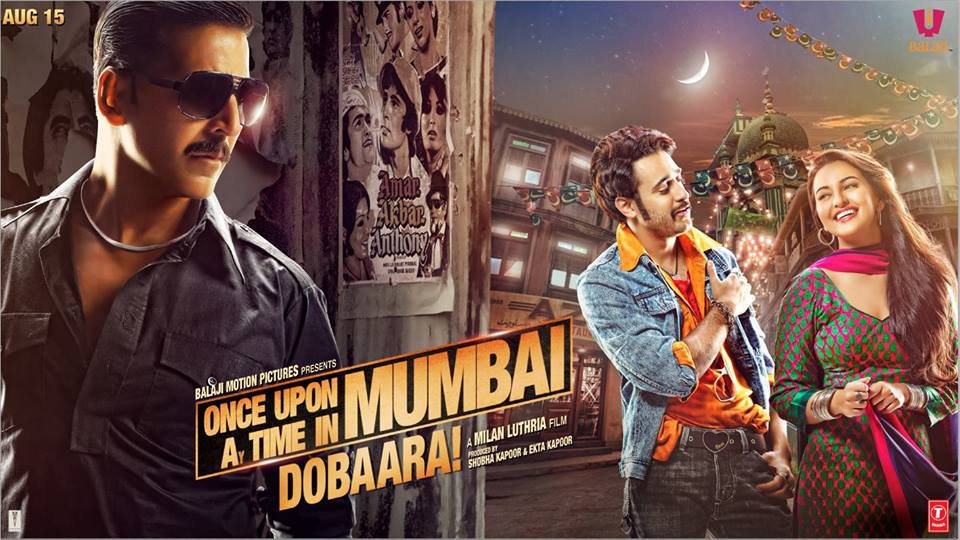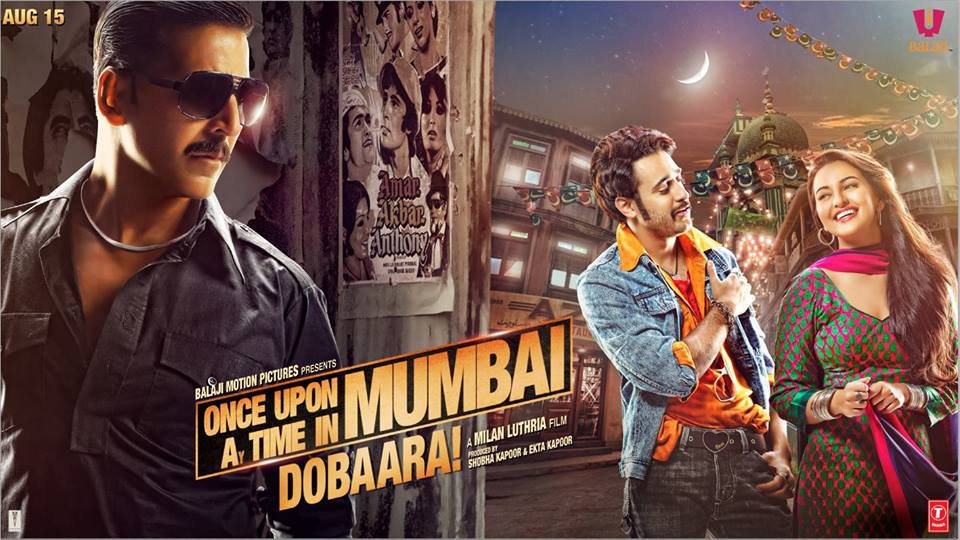 'Once Upon A Time In Mumbai Dobaara' is nothing but an out and out Akshay Kumar film with nothing more to offer.
The film did open to a full house amidst a huge thunder of applause with fans of Akshay Kumar generously blowing wolf-whistles as he was introduced on-screen. But as the film progressed, it turned out to be a full-on Akshay Kumar show meant for appeasing his fans alone.
Shoaib (Akshay Kumar), the dictator is the super boss of the dons and a messiah to many of his accomplices. He comes across as a power greedy fearless person, who dreams of "owning" the city of Mumbai, and being the ultimate king of the city. He believes he can buy everything and understands the language of compassion the least. All he loves is his own self until he meets Jasmine (Sonakshi Sinha) an aspiring actress from Kashmir.
Being oblivious of Shoaib's real identity, Jasmine befriends him. The don who lives by terrorising people, loses his heart out to this girl and expects her to reciprocate similarly. But then, it's a film after all. There have to be contriving twists and turns, no?
Enters the third lead character, Aslam (Imran Khan), Shoaib's protégé, who swears loyalty to his mentor. But as the saying goes, 'love is blind', Aslam decides to ditch his mentor for the sake of his love – Jasmine.
But the question is who does Jasmine fall for? The rest of the film delves into this love triangle.
Of the technical team, dialogue write Rajat Aroraa deserves a loud applause for adding life to an otherwise sombre and predictable script. Kudos to Rajat for making the film interesting with his catchy lines. And Akshay Kumar deserves a special mention for delivering the dialogues in a manner that can sweep people off their feet!
As mentioned earlier, the movie is all about Akshay Kumar's character, Shoaib. His presence alone on the big screen is spellbinding and the 45 plus actor has proved yet again that he is versatile.
On the other hand, it feels good to see Imran Khan experimenting with newer roles. Sonakshi Sinha looks her gorgeous best and has done a decent job as a naïve Kashmiri girl who wishes to learn English!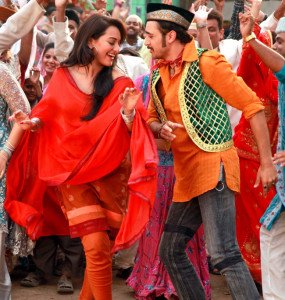 Director Milan Luthria opts for a very conventional treatment to this film. The cinematic liberties taken in the film are anything but acceptable. The hide-and-seek game between the police and the dreadful don is quite unrealistic and it goes without saying that it's total filmy!
Pritam has produced a masterpiece in the form of 'Yeh Tune Kya Kiya' sung by Javed Bashir. The 'Taiyyab Ali' track is a good attempt to revive a vintage hit. But the rest of the songs, though hummable, look unnecessary. Luthria could have done without them thereby keeping the velocity of the film steady.
Nonetheless, 'Once Upon A Time In Mumbai Dobaara' is a tale of a don who wishes to win over the love of his life! Watch it only for Akshay Kumar.