March 14 2014 Movie Releases
BOLLYWOOD
Bewakoofiyaan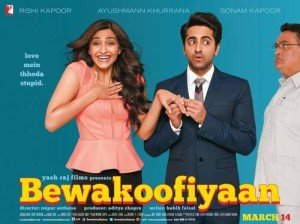 Mohit is a marketing whiz kid vying for a step up the career ladder. Mayera – a financial brain with a penchant for shoes. They're a young middle-class corporate couple that's ambitious and likes the good life too. They work hard, they party hard. They're also passionately in love with each other.Their belief: You can live on love and fresh air.Their obstacle: Mayera's wilful bureaucratic father V.K Sehgal. The obstinate old man believes that only a rich man can bring Mayera happiness and a mid-level executive like Mohit simply isn't good enough! Exactly how fragile are relationships in these times where consumer lifestyles dictate their very nature and intensity? Who gets the last laugh when recession strikes and the lack of money tests love… credit-card-junkies private-sector Mohit-Mayera; or safe-playing sarkari, V.K. Sehgal?
W
Sandy, Ruhi, and Manu are three best friends that run W, an event management company that focuses on music events. While traveling to The Freedom Concert, an event that was supposed to be their big break, they come across a group of misogynistic men who don't like how modern and self-sufficient the three women are and end up raping them. Because the three men are of good social standing, the police are particularly unhelpful and the women are traumatized by how they are treated afterwards. This prompts the three women to form the Vengeance Squad in order to take their own revenge against their rapists.
Sandcastle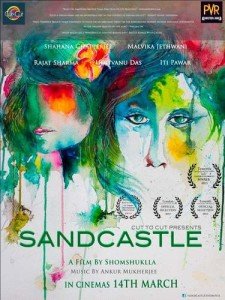 The story of Sandcastle is every womans journey, from moth to butterfly, to reach out and find their inner voice. The story of a rebel, breaking out of the cocoon of societal pressure and finding her place in society.
Neighbours
The plot is about vampires among us in the city. They were on a killing spree. These vampires had made their abode opposite Sanam's house. No body had believed Sanam when she said that her neighbours were not normal…they were eerie scary people..No body had believed the truth when Sanam said that her neighbours were VAMPIRES. Neither her family nor her friends. Even her professor didn't pay attention to her.
HOLLYWOOD
In this heart pounding action-thriller, Kevin Costner is a dangerous international spy, who is determined to give up his high stakes life to finally build a closer relationship with his estranged wife and daughter, whom he's previously kept at arm's length to keep out of danger. But first, he must complete one last mission- even if it means juggling the two toughest assignments yet: hunting down the world's most ruthless terrorist and looking after his teenage daughter for the first time in ten years, while his wife is out of town.
Battle of the Damned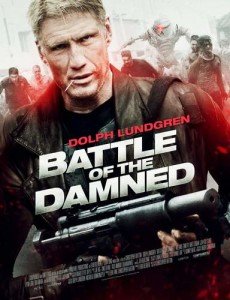 Following a deadly viral outbreak, private military soldier Max Gatling leads a handful of survivors and a ragtag band of robots against an army of the infected.