Malini 22 Palayamkottai Movie Review
[rate]
Your rating?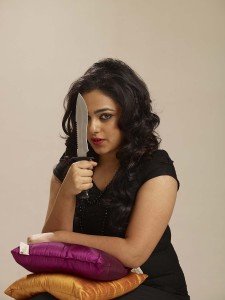 Malini 22 Palayamkottai is a latest movie that has hit the screens for Tamil cinema audiences. The movie is the Tamil version of the Malayalam flick 22 Female Kotayam.
Directed by Sri Priya, the movie is a woman centric with actress Nithya Menon playing the lead role in the movie. We usually do not get too many woman centric movies in Tamil cinema industry. Even if one or two releases occasionally, they are snubbed by the audiences as usual. Malini 22 Palayamkottai is a brave movie in this regard. However, if you look for a great cinema outing, you will be disappointed anyway.
Malini (Nithya Menon) is a nurse and she lives with Jency (Anjali) and Sarala (Kovai Sarala). Varun (Krish Sathar) befriends her and later makes her love him. Varun helps Jency to fly to Canada , which impresses Malini further. Varun asks Malini to stay with him in his houses. Malini hesitantly agrees. Later on that dreadful night, she is raped by Varun's boss.
She is also made involved in false charges and is sent to prison. Out from her prison term, she lands revenge, which is full of blood. Does she succeed in it?
Director Sri Priya seems to have been careful in her job of not making the movie too preachy or too commercial. However, this same trait also becomes the biggest minus of Malini 22 Palayamkottai. There is something called the right proposition and that is missing in this movie.
The screenplay seems predictive at times and the narration could have been better, since there is no engaging experience for the audiences. Even the lead character does not move the audiences with sympathy, which does not help the movie.