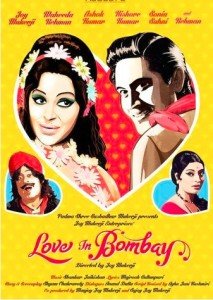 Love in Bombay (also marketed under the title Love in Mumbai) is a Hindi film produced and directed by Joy Mukherjee. The film was originally made in 1971 and starred Waheeda Rehman, Rehman, Kishore Kumar, and Ashok Kumar. The film was not released and was discovered by Mukherjee's son after his death in March 9, 2013.
Mukherjee has produced and directed the film as well.

A year after he passed away, his sons Munjoy and Sujoy are releasing Love In Bombay, which also stars Waheeda Rehman, and Joy Mukherji's uncles, Ashok Kumar and Kishore Kumar, in theatres.
The first few reels were shot on a ship. The film cost Rs 30 lakh to Rs 35 lakh (Rs 3 million to Rs 3.5 million). At today's rates, that would be anything between Rs 300 crore to Rs 350 crore ( Rs 3 billion to Rs 3.5 billion).