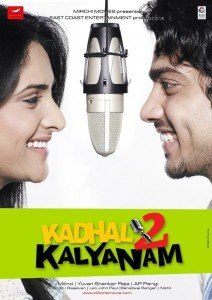 Kadhal 2 Kalyanam is a romantic comedy film directed by Milind Rau.
Starring: Sathya, brother of Tamil actor Arya, and Divya Spandana in the lead roles, whilst, Jayashree, Nagendra Prasad, Kasthuri and Anuja Iyer play pivotal roles.
Music: Yuvan Shankar Raja composed the film's score and soundtrack. Pre-production works began by mid-2008, while the filming continued for over one year, being completed by July 2010 only. The film was jointly produced by Mirchi Movies and East Coast Entertainment.
Though the movie was completed within two years, it still remains unreleased.
Movie is expected to release on September 20th 2013.
Story:
Arul is a happy-go-lucky popular RJ at a station. He meets Anita, a workaholic, at his best friend's wedding. When Anita barges in and reveals that the groom is a two-timer, the wedding is called off. Arul is intrigued by Anita and tracks her down. After a few enjoyable dates, they fall in love with each other. But problem arise because of their different lifestyles and the chaos begins.
MOVIE TRAILER