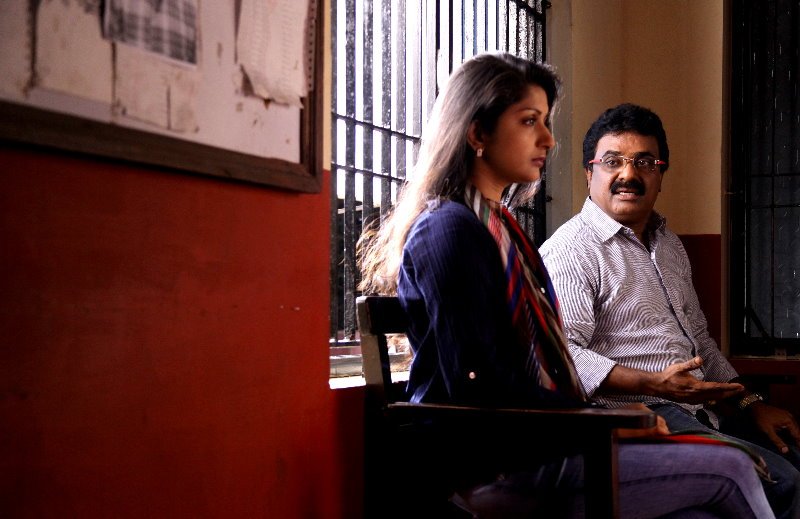 Inga Enna Solludhu Movie Review
[rate]
Your rating?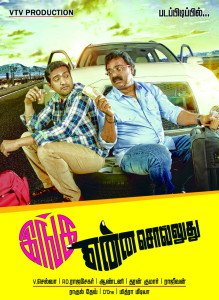 Cast: VTV Ganesh, Meera Jasmine. Santhanam , Mayilsamy, Simbu (Cameo) Andrea (Cameo)
Story, Screenplay and Dialogues : VTV Ganesh
Direction : V.Selva
Music: Dharan
Editing: Anthony
Cinematography: R.D.Rajasekar
Storyline
Ganesh (VTV Ganesh) is a middle aged man without a regular job. Along with his friend Raghu (Simbu) he saves Rajeshwari(Meera Jasmine) a well educated girl with a good job. In their eventual acquaintance Rajeshwari misinterprets Raghu's gestures for love only to know that he is already committed to another girl.
Rajeshwari marries Ganesh and the couple starts living a peaceful life until Ganesh starts trying wrong methods to become rich. He pledges Rajeshwari's assets which leads to her suicide attempt.
How the couple mend differences and regain the lost peace, forms the rest.
Script analysis
VTV Ganesh who has earned good name as a comedy actor and a co-producer in Tamil films has tested his luck in Scripting and as playing the lead role with this film. The film starts with the voice over of his real self stating that the film is based on some of the true incidents that have happened in his life. However the debutant script writer has terribly failed in converting his real life experiences as a movie worth watching.
The conflict between a jobless husband and a financially well settled pious wife, on which the story is constructed, starts only in the second half. Given this, the first half of the film hardly offers anything apart from intro song with women wearing skimpy clothes, for a man playing the lead role for the first time and a few more shots to increase the oomph factor.
The film highlights the techniques followed by some penniless men operating within the film industry to succeed in their dream of becoming a film producer. Apart from this the film has nothing new to offer. There isn't a single dialogue in the film that deserves mention.
Performance Review
VTV Ganesh donning the role of a lead actor for the first time, somewhat convinces the viewer that he can do something other than comedy when it comes to acting.
Meera Jasmine who is seen in Tamil films after a long gap looks younger than before and also fits the bill. We could not figure out whether her costumer's selection of transparent sarees in most parts of the film is accidental or intended to reveal anything.
Santhanam's one-liners fall flat.
Simbu and Andrea's cameo have been wasted and the inclusion of their respective roles itself leaves a big question. K.S. Ravikumar in an extended cameo does a neat job.
R.D. Rajasekar's camera work and Antony's edition have nothing to rave about. Dharan's re-recording is good in parts and songs are just fillers.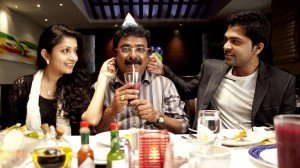 Related articles