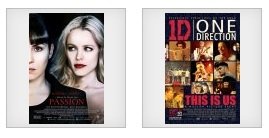 Getaway
Cast : Selena Gomez, Ethan Hawke, Jon Voight, Bruce Payne
Story: A former race car driver Brent Magna (Ethan Hawke) is pitted against the clock. Desperately trying to save the life of his kidnapped wife, Brent commandeers a custom Shelby Cobra Mustang, taking it and its unwitting owner (Selena Gomez) on a high-speed race against time, at the command of the mysterious villain holding his wife hostage.

One Direction: This is Us
Cast: Niall Horan, Zayn Malik, Liam Payne, Harry Styles
Story: A 3D behind-the-scenes film showcasing London-based global music sensation One Direction.
Afternoon Delight
Cast: Kathryn Hahn, Josh Radnor, Juno Temple, Jane Lynch
Story: Follows Rachel, a stay-at-home mom who becomes obsessed with saving a stripper named McKenna. Rachel is a quick-witted and lovable, yet tightly coiled, thirty-something steeped in the creative class of Los Angeles's bohemian, affluent Silver Lake neighborhood. Everything looks just right—chic modernist home, successful husband, adorable child, hipster wardrobe. But when she visits a strip club to spice up her marriage and gets a private dance from McKenna, something cracks open. Rachel returns to the scene of the dance to get to know McKenna, and soon after, adopt her as a live-in nanny.
Instructions Not Included
Cast: Eugenio Derbez, Loreto Peralta
Story: Valentin (Eugenio Derbez) is Acapulco's resident playboy–until a former fling leaves a baby on his doorstep and takes off without a trace. Valentin leaves Mexico for Los Angeles to find the baby's mother, but only ends up finding a new home for himself and his newfound daughter, Maggie (Loreto Peralta). An unlikely father figure, Valentin raises Maggie for six years, while also establishing himself as one of Hollywood's top stuntmen to pay the bills, with Maggie acting as his on-set coach. As Valentin raises Maggie, she forces him to grow up too. But their unique and offbeat family is threatened when Maggie's birth mom shows up out of the blue, and Valentin realizes he's in danger of losing his daughter- and his best friend.

The Lifeguard
Cast: Kristen Bell, Mamie Gummer, Martin Starr, David Lambert
Story: Leigh (Kristen Bell) is almost 30, and living a seemingly perfect life in New York. But when her career and love life both come crashing down, she flees to her suburban hometown and regresses right back into teenage life and behavior. She moves into her old room with her parents, hangs around with friends who never left town, and reclaims her high school job as a condo-complex lifeguard. But as Leigh enjoys shirking adult life and responsibilities and enters into an illicit affair, she begins a chain reaction that affects those closest to her.

Passion
Cast: Rachel McAdams, Noomi Rapace, Paul Anderson, Karoline Herfurth
Story: The offices of a prominent multinational corporation is the setting for this story of a power struggle between two contemporary women. Isabelle has unlimited admiration for her direct superior, Christine, a woman well-schooled in the ways of power. Christine enjoys holding sway over Isabelle, leads her one step at a time and ever more deeply into a game of seduction and manipulation, of dominance and servitude. The game is played for keeps, and there is no turning back.