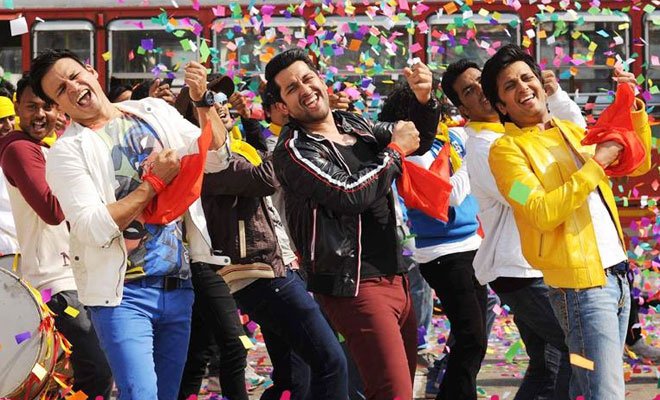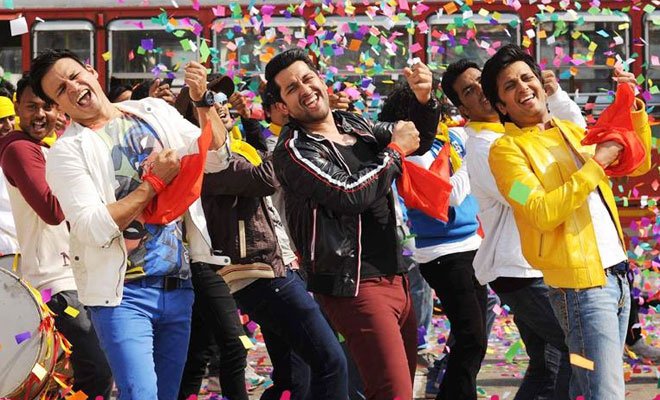 The makers of Grand Masti have been promoting the film as an adult comedy so we obviously can't blame them for the non-stop adult humor in it but what we can and should blame them for are a lot of other loopholes.
Grand Masti, as we know, is the sequel to the 2004 hit movie Masti.The opening scene of this one…college students Amar, Meet and Prem (Ritesh Deshmukh, Vivek Oberoi and Aftab Shivdasani respectively) are teaching their juniors how to have a good time at college. So when they say 'A stands for', the camera zooms into the girls' backside and there is a montage of tight close up of girls wearing hot pants and even lesser. As soon as the point is loud and clear they move on to the letter 'B' and the director focuses on the women's chest. The opening scene sets the ball rolling and makes it clear as to what one can expect in the next two hours ten minutes. Once out of college, Amar, Meet and Prem are married and well, not having a good sex life. So their only hope is the reunion at their college SLUTS, of course the full form is something else, 'Shree Lalchand University of Technology and Science'. Back in the campus, the three boys are chasing three hot women whose names are Rose, Mary and Marlowe of course pronounced as 'Roz Meri Maarlo'!
We knew what to expect from the posters and promos but the problem here is that the humour is cheap and forced. The makers have not just gone too far but they have scrapped the bottom of the barrel to dig out the cheapest possible double meaning jokes. Throughout the film, the close up of private parts, male and female both, leaves you disgusted.